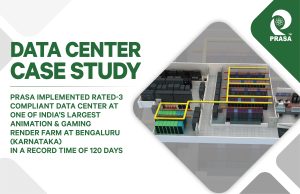 Prasa Implemented Rated-3 Compliant Data Center at one of India's largest Animation & Gaming Render Farm at Bengaluru (Karnataka) in a Record Time of 120 Day's
PRASA is proud to share the commissioning of 1.2MW high density rack Data Center for one of World's largest color motion picture company. We take pride is sharing that this project was completed in a record time of 4 months in all aspects at Bengaluru.
Highlights of the project
Prasa Implemented the new Data Center as per client requirement of Rendering Racks, storage Racks , Server and networking Racks with the Total Data center area covered around 4500 Sq. ft. As per  client requirement setup entire infrastructure for the data center comprising of Civil, Interior works, Electrical, UPS System along with SMF batteries for the desired backup time, DX based Precision Air conditioning, IBMS to cater the data center requirement.
The Prasa Solution
The new data center built by Prasa uses modern technology and spans across 5 rooms – Server Rendering Room, Server / Network Room, UPS Room, Battery Room, Staging/Storage & BMS Room. It has been modified with stairs, which assists in easy movement of equipment and will also facilitate upgrades in the future, and has fire rated wall that protects the data center from fire.
The data center follows Cold Aisle containment solution, which makes the data center safer and smarter.
The data center is installed with In-row cooling systems that cool efficiently with precision and brings down the energy consumption and hence lowers the PUE.
Civil: Completed Civil and interior works including wall partitions, flooring etc  as required to complete the Data Center as per the approved layout at the 5th floor of the building.
Electrical : Electrical works as per the Approved SLD. At the basement floor of the building inside the electrical room tapping from the Existing Main LT Panel feeder to done in 2 sources (source-1 and source-2 ) for providing the power to the data center.
HVAC: Complete HVAC as required for the data center cooling. DX based Precision Air conditioners are to be used for cooling the data center and allied areas ( This kind of hybrid cooling with in-row & perimeter precision air handling units was uniquely designed to cater high density (up to 20KW ) per rack load using DX Cooling technology). Server room and the electrical room to be cooled by using bottom discharge flooring mount PAC. Battery room to be cooled by industrial grade wall mount PAC. Other areas are cooled by the wall mount split AC units.
IBMS : Complete IBMS systems as required to complete the Data center
Building Management System , IP CCTV System , Access Control System , Intelligent Fire Detection and Alarm System , Aspiration smoke detection system , NOVEC1230 based Fire Suppression System , Water Leak Detection system , Rodent Repellent system
BMS: Prasa has provided BMS System to ensure the uninterrupted functioning of the data center.
Passive Networking:  Building to Building connectivity is done with Armoured Single Mode Fiber cable.
Racks & PDU:  Rack  provided with 2 nos of PDUs. Cold Aisle containment done for the efficient cooling of the racks
Challenges
(1)Prasa team completed all data center project work in the Pandemic Situation
(2)Material movement and Transportation issue in Covid 19 Situation
(3)The required solutions had to be energy – efficient and cost – effective without compromising on the quality of the technology being offered.
(4)The Data Center functioning and smooth working of equipment had to be managed post completion of the Project.
Benefits
(1)The modern technology along with In-row cooling systems reduces the power usage considerably, therefore reducing the electricity bill and making the company energy efficient.
(2)Cold Aisle containment technology makes the data center facility safer and easier to manage for the data center staff.
(3) High efficiency modular architecture UPS of 400 KVA X 4 nos. was installed to ensure scalability.
(4)The fire rated door makes sure that in case of any fire outside the data center, the facility will be safe from fire, and any incident of fire inside the data center will be contained within and suppressed using fire suppression system.
(5)The Lighting Scheme may be Satisfactory, economical, safe, colorful, effective comfortable and energy efficient by choosing proper maintenance factor and utilization factor
(6) In Row cooling unit for Render farm for closer to rack cooling availability
(7) Cold Aisle containment for the Render farm and Server Room.
(8) Fiber Basket Solution: – The Cable management fiber Basket Solution is a state of the art offering that meets all the challenges of carrying data communication Cable while maintaining the stringent requirements. Fiber Basket Solution is elegantly Simple to install and easy to fit.
About Prasa
Prasa is one of India's leading data center and mission critical infrastructure solution and service providers. For over 27 years, Prasa has worked with a wide range of customers (which includes growing businesses, global enterprises, and government organizations), by offering quality products and services along with certified professional staff and has thus procured in-depth knowledge of the specific requirements in varied industry verticals.
Prasa has been one of the pioneers in mastering the art of building end-to-end data centers for a prestigious list of customers. We have been at the forefront of providing data center build solutions and specialize in it. We make the most of every opportunity to serve our customers by building a customized data center that satisfies all their needs and requirements.
The team of experts at Prasa is known to deliver innovative solutions that are highly efficient, scalable, and agile. We provide the best data center consultancy services in India and now we're outreaching globally as well. Our in-depth knowledge & vast experience of more than 20 years in building data centers has helped us develop an in-house expertise over the data center skill-sets elaborated in the below flowchart: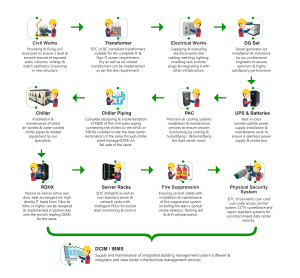 We are happy to share that at PRASA we have an in-house expert of each technology mentioned in the above info graphic.
To read more case studies from Prasa, click here