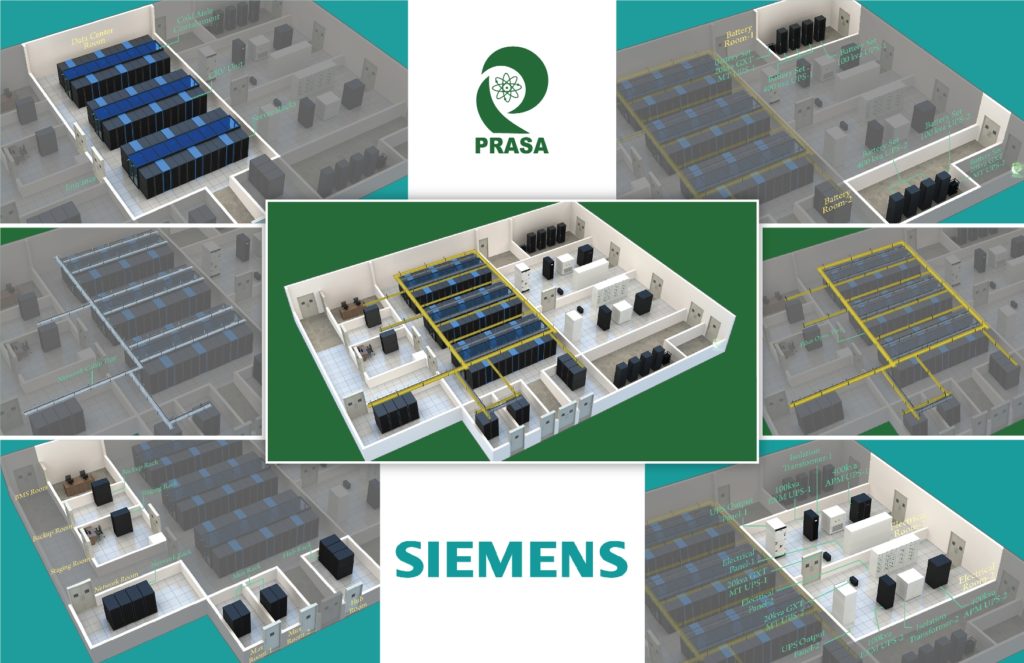 Prasa implemented Rated-3 Compliant Data center at Siemens Technology and Services, Electronic City , Bangalore.
"Prasa has deployed a modern and energy-efficient data center at the Siemens Technology and Services Pvt. Ltd, Bangalore , The data center is a turnkey integrated smart solution that manages and supports the IT and management services." The overall Data Center design energy efficient in line with Green Data Center concepts.
About the Client
Siemens Technology and Services Private Limited (STSPL) is the Indian subsidiary of German multinational engineering and electronics conglomerate Siemens that focuses on IT and management services. The subsidiary is split into major units like Advanta Development Center, Corporate Technology India and Global Shared Services. Located in Electronic City in Bangalore, it has over 4000 employees.
Challenges on Project:-
Prasa team Completed all data center project work in the Pandemic Situation
Material movement and Transportation issue in Covid 19 Situation
The required solutions had to be energy-efficient and cost-effective without compromising on the quality of the technology being offered.
The data center functioning and smooth working of equipment had to be managed post completion of the project.
Set up Data Center at the 8th floor of the building.
Data Center is allowed for 24 hours of downtime per year.
Highlight of the Project:- (The Prasa Solution)
Civil and Interior Works
Location – 8th Floor of Gold Hill at Electronic City, Bangalore
Total area allocated – 6900sqft
Facility areas  –  Server Room: Hosting 60 server racks with access Control
Network Room: Hosting 4 network racks with access control
Server Room – Server Room designed for 60 racks
Phase -1: 50 + server racks
Space provisioning for future requirement: 10 racks
Fire Rating – All materials inside the Data Center to be 2-hours fire Rated.
Doors – 2-hour fire rated metal door
False Flooring – 2 hour fire rated raised access flooring for Server Room,Network Room, Staging Room, Corridor, Electrical Rooms
False Ceiling – 595mm x 595mm metal grid false ceiling for all the areas of the Data Center
Cooling System
Total IT Load – 353kW IT load for Data Center when operated at full capacity of which 330kW is the IT load for the Server Room
Indoor Cooling System type – Chilled water based in-row type Precision Air Handling Units for Server Room
Standards – Uptime Institute Tier III, TIA 942, ASHRAE
Safety and Security Systems
Fire Detection System, Fire Suppression System , Access Control System, Surveillance System, Water leak Detection system, Rodent Repellent System , VESDA , Public Addressing system
BMS system to monitor the following:
(a) Transformers (b) Chiller (c) DG Set (d) UPS System (e) Load meters (f) Rack level power monitoring either from tap-off boxes or from rack IPDUs (g) Temperature and Humidity of all rooms (h) Fire Alarm System
Display – 2×55" LED displays for Control Center for monitoring of BMS and Surveillance system
DCIM – Data Center Infrastructure Management System for monitoring of the Data Center IT infra
Networking
Racks – 60 +
Server Racks: 48U x 600mm x 1400mm
Network Racks: 48U x 800mm x 1200mm
Mux Racks: 42U x 600mm open stack racks
PDU – 2 numbers of IPPDU per rack with C13, C19 and 5/15A sockets Lockable type power sockets
Redundancy- N+N for server racks
Standards – EIA 568, EIA606  standards
Modular UPS – 400 KVA  X 2 No's in N+N redundancy for IT Load
100 KVA UPS for Cooling Load
Distributed the power through BBT Cooper Based
OM 5 –Fiber Cabling through Data Transfer
In Row Cooling – 12TR X 15 No's
Lithium Ion Battery for long life and Guaranteed Back up time
48 U Rack – With more Usable Space
Provided IPDU for Socket level monitoring Vertiv Geist Rack PDUs
Prasa Solution
1)The data center is complete with all security systems. The security systems include – Water Leak Detection, Rodent Repellant System, Fire Detection System, Fire Suppression System (Novec 1230), CCTV, and Physical Access Control System.
(2)Prasa has completed all the civil requirements to house a data center including ceiling, floor, paint, PoP, etc.
(3)The electrical solutions include power backup equipment including all wiring, UPSs, and DG set.
(4)The data center security has been taken into account from all aspects including CCTV, fire suppression system, water leakage safety system, rodent repellant system, vesda system, etc.
(5)Prasa has provided a BMS system to ensure the uninterrupted functioning of the data center at Siemens
Customer Benefits
High Security Solution Provide including Man Trap & Rack level Access Control Systems of High Security.
For Better efficiency implemented Hot Oil Containment
48 U Rack with more Usable Space
About Prasa
Prasa Infocom and Power Solutions Pvt. Ltd. is one of India's leading data center and mission critical infrastructure solutions and services providers. Having worked closely for over 26 years with a wide range of customers (from growing businesses to global enterprises, and government organizations), we have been able to procure in-depth knowledge of the specific requirements regarding varied industry verticals. To read more case studies from Prasa Infocom, click here.