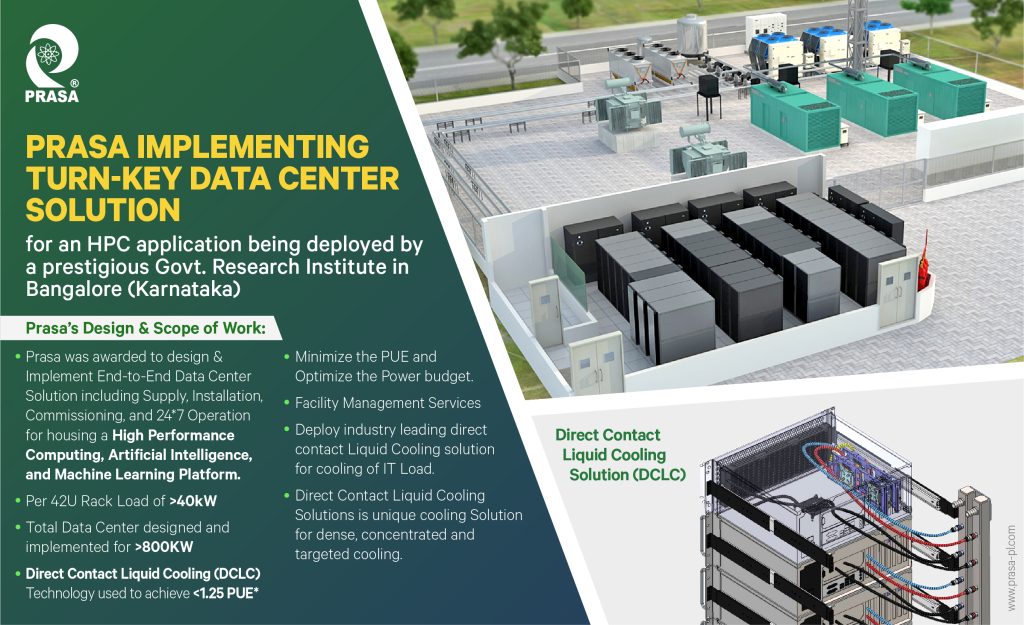 PRASA Implementing a Turn-key Data Center Solution for an HPC application being Deployed by a Prestigious Govt. Research Institute in Bangalore (Karnataka)
Prasa's Design & Scope of Work
Prasa was awarded to design & Implement End-to-End Data Center Solution including Supply, Installation, Commissioning, and 24*7 Operation for housing a 𝐇𝐢𝐠𝐡-𝐏𝐞𝐫𝐟𝐨𝐫𝐦𝐚𝐧𝐜𝐞 𝐂𝐨𝐦𝐩𝐮𝐭𝐢𝐧𝐠, 𝐀𝐫𝐭𝐢𝐟𝐢𝐜𝐢𝐚𝐥 𝐈𝐧𝐭𝐞𝐥𝐥𝐢𝐠𝐞𝐧𝐜𝐞, 𝐚𝐧𝐝 𝐌𝐚𝐜𝐡𝐢𝐧𝐞 𝐋𝐞𝐚𝐫𝐧𝐢𝐧𝐠 𝐏𝐥𝐚𝐭𝐟𝐨𝐫𝐦.
Per 42U rack load of  >𝟒𝟎𝐤𝐖
Total Data Center designed and implemented for  >𝟖𝟎𝟎𝐤𝐖
Minimize the PUE and Optimize the Power budget.
Facility Management Services
Deploy industry leading direct contact Liquid Cooling solution for cooling of IT Load.
Direct Contact Liquid Cooling (DCLC) Technology used to achieve <1.25 PUE*
Direct Contact Liquid Cooling Solutions is a unique cooling Solution for dense, concentrated and targeted cooling
DCLC utilises the exceptional thermal conductivity of liquid to provide dense, concentrated cooling for target surfaces.
DCLC drastically reduces dependency on fans or air handlers. Extremely high rack densities are possible, power consumption drops, making possible greater power potential. Each server in each rack can be cooled by circulating the liquid on top of the processor.
Direct Contact Liquid Cooling Solutions reduces the power consumptions drastically by using dry cooler instead of chillers.
We thank our partners Dell & CoolIT for their support in deploying this Solution.