Prasa Deployed 3000 kVA Power Backup Infrastructure at Bottling Plant in Africa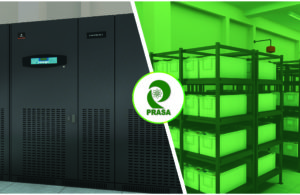 "Prasa has deployed and installed power backup solutions to support all mission critical functions at Anjani Foods and Beverages LDA. The UPS systems will ensure an uptime of 99.99% in one of the biggest cap and bottle capsule manufacturing plants in Angola, South Africa."
About the Client
The client is among one of the biggest manufactures of caps and capsules of bottles as per the industrial standards in the country.
 Challenges
The client's manufacturing plant for caps and capsules of bottles is located in Angola, Southern Africa. Angola suffers from electricity fluctuation which interfered with the production capacity at the manufacturing plant and caused losses to the company.
Every time there was an electricity fluctuation or power loss, the plant needed to restart all its systems causing at least a minimum production halt of 30 minutes. Since the company produces 130 bottle capsules per minute, it meant every power fluctuation would cost the company ~3900 bottles.
The Prasa Solution
It was decided that to counter the electricity fluctuation challenge and bolster the client's production capacity, Prasa will install and commission 4 UPS systems of 500 KVA capacity each, with 200AH battery banks to support every UPS.  These systems will ensure zero downtime for all equipment in the facility and eradicate any production loss incurred due to power failure or fluctuation.
Prasa deployed these systems in Angola, South Africa; by taking care of all critical factors like UPS positioning, UPS termination, input-output cable termination, battery cable termination, rack assembly, battery installation, interlinking of batteries, and BCB mounting.
A glimpse into the solution provided by Prasa at Anjani Foods and Beverages LDA 
                        
Benefits
The UPS systems along with battery banks support and sustain all the equipment at the manufacturing plant ensuring uptime of 99.99% at all times.
The newly installed solutions do not just reduce the company's dependence on Raw Power, but also protect all the equipment from bad power, increasing their shelf-life.
The power backup infrastructure by Prasa has increased the client's production capacity which suffered due to multiple power failures and fluctuations every day, which directly resulted in higher monetary benefits for the client.
About Prasa
Prasa Infocom and Power Solutions Pvt. Ltd. is one of India's leading data center and mission critical infrastructure solutions and services providers. Having worked closely for over 24 years with a wide range of customers (from growing businesses to global enterprises, and government organizations), we have been able to procure in-depth knowledge of the specific requirements regarding varied industry verticals. To read more case studies from Prasa Infocom, click here.