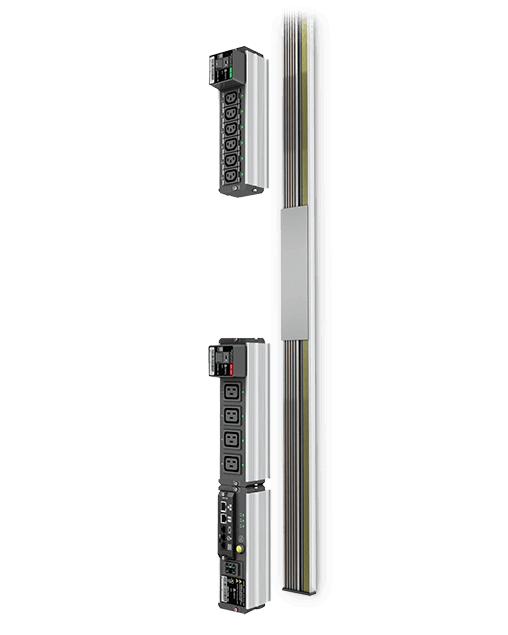 Vertiv MPX Adaptive Rack PDU
The MPX is the most responsive and adaptive rack PDU available. With MPX rack PDU technology, you can respond to rack equipment changes and dynamic capacities by leveraging hot-swappable modular output power, hot -swappable modular communications, hot swappable modular environmental sensors and modular input power.
Warranty: Standard warranty is 2 years. Warranty extensions 1 year and 3 years are possible.
Models
Benefits & Features
Documents & Downloads
The Vertiv™ MPX™ modular rack PDU consist of various components. The basic element is a busbar MPX PRC, which is responsible for the power and communication distribution to the individual modules. The input power is routed via MPX Power Entry Module (PEM) to the MPX system. As for the output options, different output modules are available depending on your requirements. Vertiv MPX E - Elementary output modules provide basic modular power distribution without metering and control functions, MPX B – Branch monitored modules enables metering per input and per module and MPX R – Receptacle managed modules allowing metering per input, per module and per individual outlets. Each outlet can also be individually switched remotely. Due to hot-swappable modular architecture a combination of all different kind of modules are possible, which is one of the many exceptional features provided by Vertiv MPX system
Vertiv MPX BRM Output module E – Elementary
Vertiv MPX BRM Output module B - Branch monitored
Vertiv MPX BRM Output module R – Receptacle managed
Vertiv MPX PEM Input module Elementary
Vertiv MPX PEM Input module Monitored
Vertiv MPX Power Rail Chassis
Benefits
High availability
Heat resistant up to 60 °C ensuring reliable operation in the warm aisle
Modular hot-swap-enabled output module, controller card and sensors that can be exchanged or updated during operation
Special relays - connected servers have an uninterrupted power supply even in the event of failure
Redundant power supply for control electronics
Fixed databus on the busbar
Additional metering of the neutral conductor and crest factor
Data tapping on the Power Entry Module without any additional external monitoring devices
High flexibility
One busbar for different networks and power levels - input module can be freely selected. All other components are hot-swap-enabled when running operation
Mobile display for reading all MPX data on the rack
All modules configured in line with requirements - patented quick mount fitting for safe installation
Wide selection of single or three phase power input configurations with ability to field change while maintaining distribution infrastructure
Scalable design that allows on-site configuration to fit immediate IT requirement's needs
Highest possible power levels
 Power feed of maximum 3x63 A - optimal for Blade server applications
 One IP address for up to 4 rails with 28 modules
 Plug and Play for numerous sensors
 Extensive monitoring with a metering accuracy of ± 1 % right through to output level
 AutoDetect function with operating software for modules and sensors
 Minimal power loss for MPX systems
Features
Industry leading operating temperatures of up to 60 °C suitable for high temperatures inside racks
Special relays ensure basic power supply even when shortfall occurs elsewhere
Extensive alarm functions including notifications when an alarms occurs in individual groups
Accurate voltage and current metering up to outlet level with ± 1% tolerance deliver reliable results
Monitoring of environment conditions (temperature, humidity and input contacts)
Modular hot swappable components that can be replaced during the operations
Notification upon failure or if loads are removed in individual racks
Brochures and Data Sheets