Location– Pune (PAN India traveling as per project site)
Experience– 2 to 10 years of experience  
Education– BE (Electrical/EEE/Mechanical)
Job Profile
Planning, Budgeting, and Scheduling of DATA CENTER (MEP) project.
Prepare Bill of Material, Technical Data Sheets, and Technical Compliance statements as per tender requirements.
Providing presales technical support to the salespersons.
Meet with the Consultant/Customer for drawing approvals & site issues.
Project scheduling, including material & manpower planning.
Coordinating meetings with Clients & Vendors for timely delivery to review progress and site issues.
Achieving project completion timeline and budget.
Coordinating with the project team for the effective delivery of solutions keeping all parameters in consideration.
Coordinating with the client for the entire project cycle from conception to final submission with the necessary technical support.
Leading and managing the project teams throughout the project life cycle, providing support and guidance on technical and project-related issues.
Help to Purchase Team in finalizing BOQ, Bid, and Purchase Order / Work Order for the vendor.
Follow all safety standards and guidelines as per EHS at site work.
Prepare project progress charts, conduct work progress weekly meetings, site progress meetings & MOMs.
Monitoring/ensuring steady progress of the project. Timely asking for bills to be submitted to the client & follow-up for remittance.
Vendor Management
Manpower Handling
Project planning & execution
Qualifications :
Good Communication Skills, Multitasking capability, and Ability to work under pressure.
BE (Electrical/EEE/Mechanical)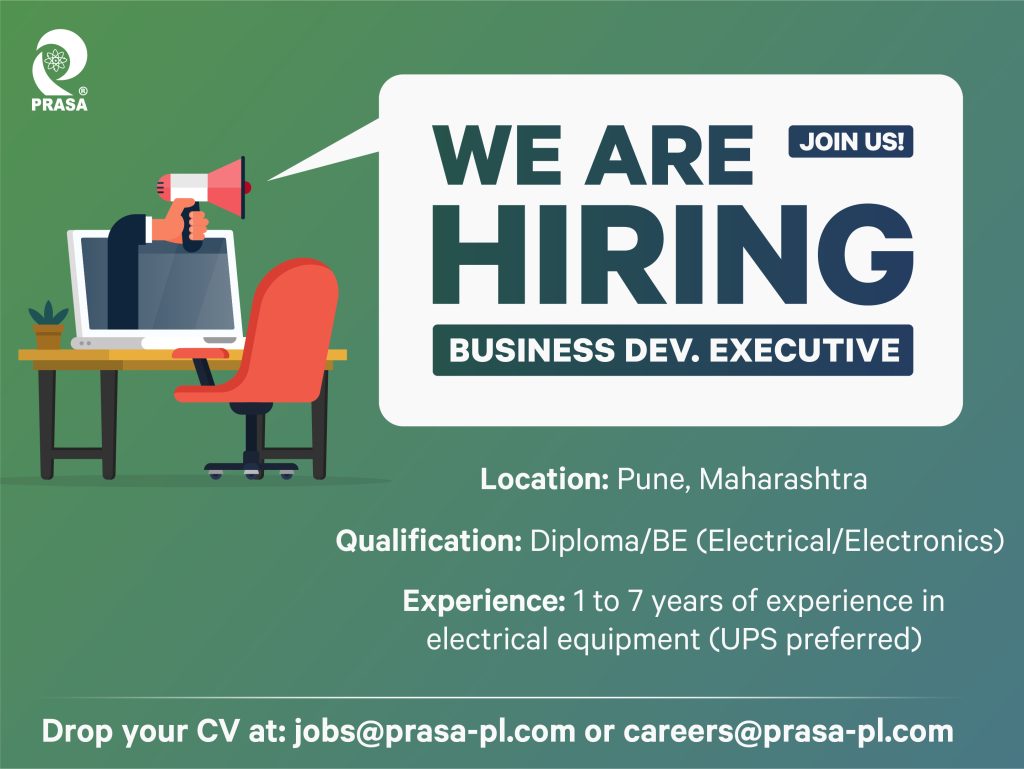 Qualification: Diploma/BE (Electrical/Electronics)
Exp:1 to 7 years of experience in electrical equipment (UPS preferred)
Location– Pune
Role, Responsibilities, & Skills Requirement :
Identifying and establishing contact with potential customers proactively.
Sale of UPS (1-800kVA), Smart Row/Cabinets, PDU, Batteries, Stabilisers, Power Products & Solutions, Bulk/Govt sale Experience.
Determining potential business opportunities.
Organizing meetings with potential customers and partners to pursue business opportunities
Responding to sales inquiries from new and existing customers.
Delivering presentations of the company products at client sites.
Prepare plan to achieve desired targets
Cross-Selling for other business divisions of company.
Producing monthly sales reports and provide support to sales Development team.
Contact management, Lead generation, and Lead management.
Funnel management in SAP CRM.
Understanding the needs and preferences of the customer and ensuring that are fulfilled.
Supporting customer needs and providing customer satisfaction through negotiation.
Ensuring effective internal communication within Sales team and Customer Support Team across the Co..
Negotiating the agreement terms and closing sales, as and when needed.
Look after the development and enhancement of the existing Market.
Motivating all sales staff to share relevant data about market trends.
Training and mentoring the junior staff whenever required.
Qualifications :
Fluent in written and spoken English
Diploma/BE (Electrical/Electronics)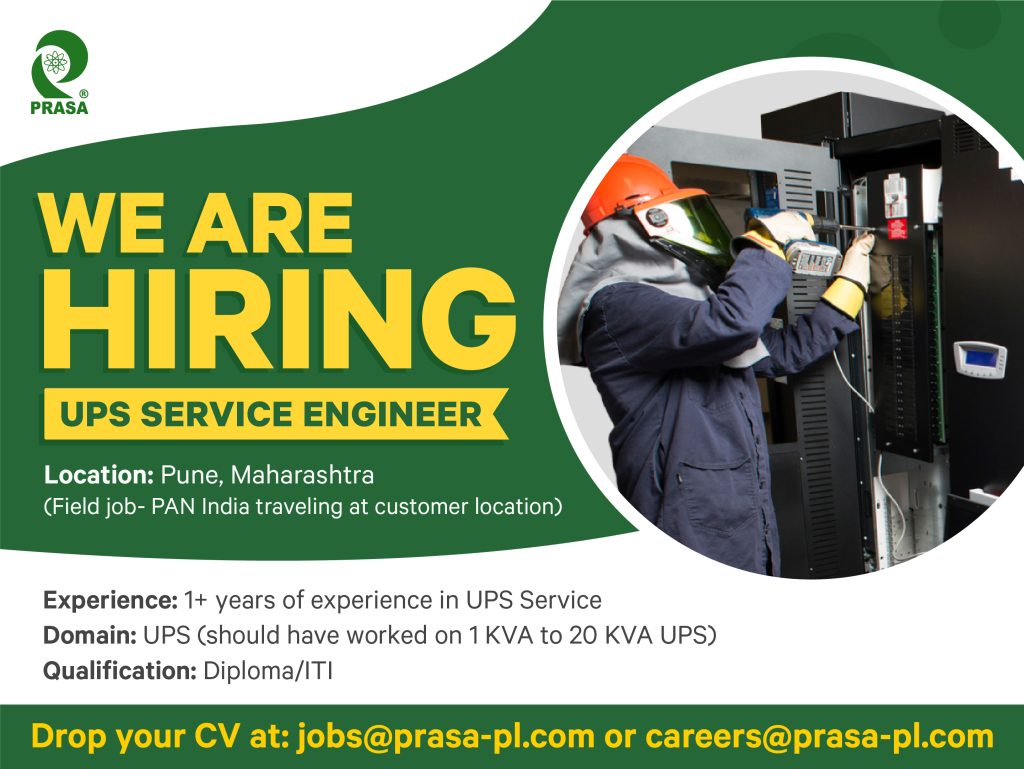 Qualification: Diploma/ITI
Exp: 1+ years of experience in UPS Service
Responsibilities :
Attend UPS & Battery Service calls
Provide on-site installation, preventive maintenance & breakdown services to customers.
Provide technical support to customers at their location
Timely and professionally handle field service calls and issues arising from the field service visits
Timely complete and submit all required paperwork
Communicate with the customer to ensure satisfaction and implement any necessary corrective actions
Responsible for day-to-day assigned technical support.
Willing to work as a field service engineer and travel extensively (should have a bike).
Coordinate with the back-end team.
Submit Field Service Report on regular basis.
Maintain necessary reports.
Skills Required :
Good Communication Skills, Multitasking capability, and Ability to work under pressure.
Basic knowledge of industry trends within Power systems, AC/DC applications, DC to DC applications, Power Mechanical applications, Power System Applications, Configurable Power, Batteries, and other products.
Qualification: Diploma/BE (Electrical/Electronics)
Exp: 2-5yrs Min Exp (In Repairing of UPS Cards)
Responsibilities:
Identifying the fault in UPS.
Handling Repairing of Control/Charger Cards (1 KVA to 20 KVA ) UPS
Ensuring the Working Condition of the Machines
Spares Management
Handling & Repairing Double Layer PCB cards
Load Testing
Skills Required :
Presentable, Good Communication Skills.
Head Office
001, Casablanca Building, Opp. Karishma Society,
Sangam Press Road, Kothrud, Pune – 411 038, Maharashtra, India
Email
 jobs@prasa-pl.com, careers@prasa-pl.com