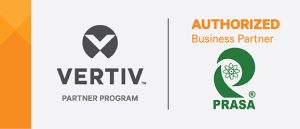 Companies today, often face the challenge of expanding data center capacity without sufficient space, power, cooling or other infrastructure support. Conventional data center infrastructure strategies often use piecemeal designs that may hinder the operational and energy efficiencies of your data center.
With Prasa's Skid or Modular Data Center Solutions, we provide you with pre-fabricated, yet customizable data centers that are easy to deploy. These data centers are pre-integrated with power, cooling, safety, and distribution systems, making them highly reliable, efficient, and scalable.
Liebert Smart Solutions
Prasa is one of the most sought Liebert smart solutions providers in Pune and all around India. With the help of Vertiv smart solutions like Liebert SmartRow, Liebert SmartCloset, Liebert SmartMod, and Liebert SmartCabinet, we help you build, monitor, and manage your data center with utmost efficiency and accuracy.
This is the utmost flexible and scalable solution that satisfies all your data center needs for today as well as the demands of tomorrow!
| | |
| --- | --- |
| | SmartRow solves a problem all too common to IT management, addressing IT needs without building new data center space. Think of SmartRow as a data center in a row — a simple, fully integrated row-based infrastructure. SmartRow combines up to six data center racks — with precision cooling, UPSs, power management, monitoring and control technologies, and fire suppression — all in an enclosed system. |
| | The SmartCabinet enables Enterprise Class IT Infrastructure through the provision of integrated enclosure, power, cooling and service. Critically it also enables the most vital element – namely 360° visibility of all system components. |
| | SmartCloset is the new standalone self-contained rack from Vertiv, along with inbuilt power and cooling. It facilitates the housing and trouble-free installation of active IT equipment like switches, routers, servers and so on – for which, an open environment is not conducive for healthy performance.​​​​ |
Smart Aisle Data Center Solutions
With Prasa's Smart Aisle Data Center infrastructure solutions, we help you optimize infrastructure deployment and management. The Vertiv SmartAisle equips you with an intelligent row-based system that integrates data center racks, power, row cooling, aisle containment, monitoring, and control technologies for spaces with up to 40 racks.
As with all Smart Solutions offerings, the SmartAisle data center infrastructure solution is engineered for economy, efficiency, ease of management and most importantly, the ability to be changed as your IT requirements change.
We also provide consultancy, implementation, and support services for our smart aisle data center solutions. With over 28 years of experience in the industry, you can rest assured that Prasa will provide you with the most honest consultation, highly reliable products, and exceptionally efficient solutions/services.