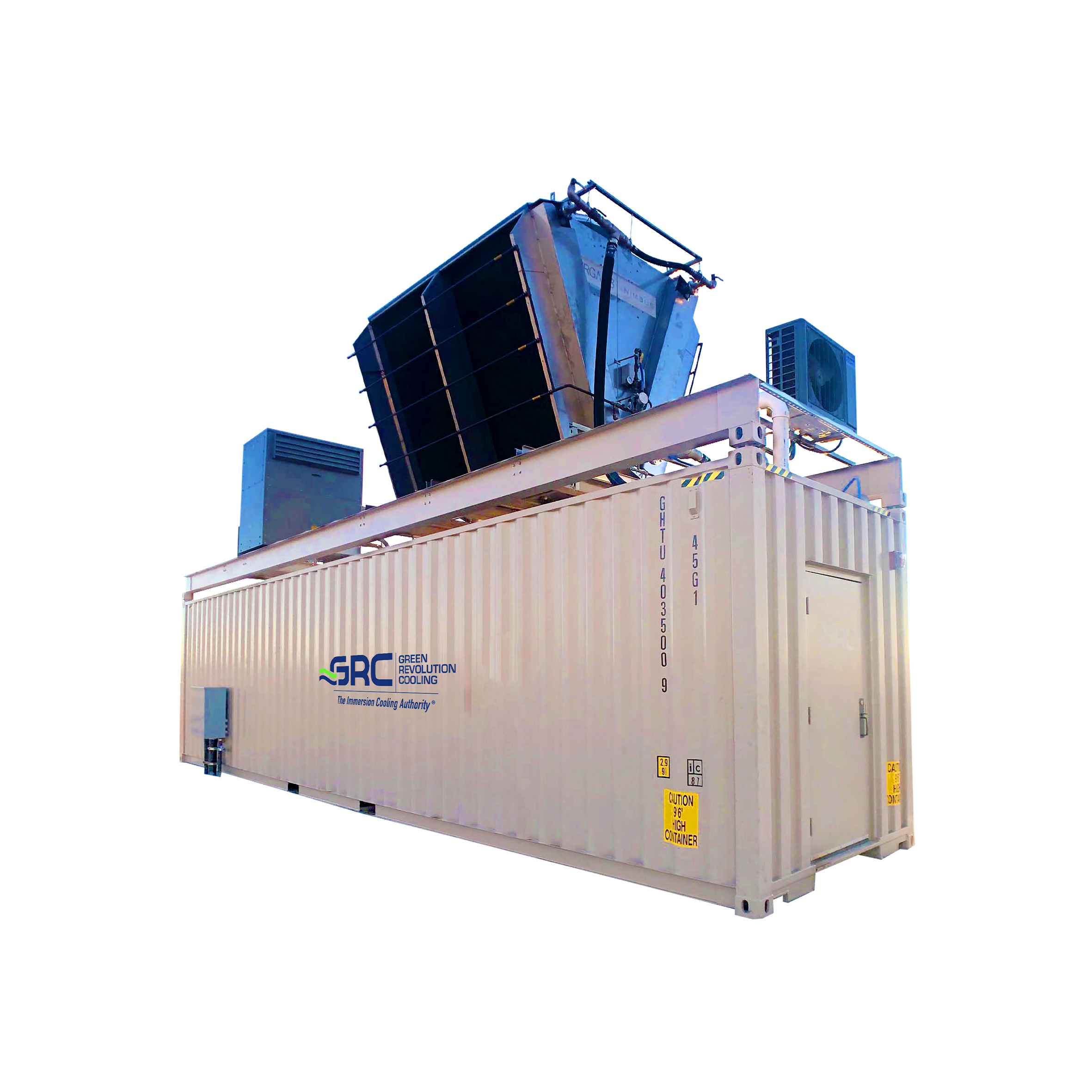 ICEtank® – Modular Liquid Immersion Cooling System
Need to add computing power in the middle of nowhere? Want to expand your data center but only have a parking lot to do so? Can't move everything to the cloud and need to find a hybrid approach for storage? Data center running out of capacity? ICEtank immersion cooling solutions from Green Revolution Cooling (GRC) are the answer.
ICEtanks are turnkey, modular data centers in a container with complete cooling and power infrastructure that give you total location flexibility – even for adverse conditions.
Additional Information
Models
Advantages & Benefits
Docs & Downloads
ICEtank® Solutions Include:
20' or 40' ISO shipping container
Integrated electrical infrastructure (including power distribution, breakers, panels, etc.)
CDU (coolant distribution unit) + racks
Racks filled with our proprietary ElectroSafe™ liquid immersion coolant
GRC's Foresight monitoring and alerts application
Mirrored System with 2N redundant pumps
Fire suppression
Mini-split A/C unit(s) for technician comfort
Integrated cable management
Rack-mounted service rails for easy server maintenance and hot swaps
One-year limited warranty including 24/7 on-call GRC support staff and 24/7 remote monitoring
Cooling towers including plumbing up to CDUs
Whether You're Diving Into Hybrid Cloud Computing or Updating Your On-Premises Data Center, There's an ICEtank Modular Data Center Container For You
ICEtank IT20
20' container, 4 x 42U immersion-cooled racks and 2 coolant distribution units (CDU), supporting up to 200kW of IT load. Ideal for edge computing.

ICEtank IT40
40' container, 8 x 42U immersion-cooled racks and 4 coolant distribution units (CDU), supporting up to 400kW of IT load. Ideal for edge computing.

Advantages & Benefits of ICEtank
Rapidly deploy in any environment
Configurable to cool up to 100 kW/rack
Cut cooling energy by up to 95%
Attain an mPUE <1.05
Lower upfront costs 50%
Reduce server power draw 10-20%
CPU-/GPU-agnostic
Fast deployment: 10 to 14 weeks
Turnkey solution with complete cooling and power infrastructure
The Green Revolution Cooling ICEtank is a sealed, mobile, modular data center that resists even the harshest environmental elements
Modular design enables easier capacity planning
Waterless dry cooler options available
UPS and Generator backup modules available