Eco-Insights: Will Sustainability Be the Dominant Data Center Trend of 2022?
prasaadmin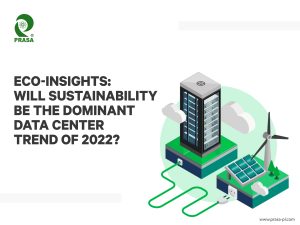 Each year at Prasa , we bring together experts from across our organization to analyze the data center trends that could gain traction in the coming year. Our goal is to identify emerging trends early in their evolution but not so early that they aren't actionable. While no attempt at predicting the future is 100% accurate.
Our top trend focuses on sustainability and climate change. Data centers fuel scientific advances, improve business processes, deliver entertainment to our homes, and enable new ways to shop and connect with the world, contributing tremendous value to individuals, business and society. But as the industry continues to scale to meet demand—and with an estimated 2.9 gigawatts of new data center capacity under construction right now—there is growing concern about the resources these facilities consume.
While our industry has made good progress in recent years improving the energy efficiency of data centers, there's plenty more to do. Our experts see the coming year as one in which data center operators are more purposeful in their approach and expand on previous efforts to encompass resource utilization, carbon emissions and waste reduction.
We've already seen the largest data center operators moving in this direction. Some have set ambitious sustainability goals for their organizations that include achieving net-zero carbon emissions and water use in the next 10 years. As they pursue these goals, they're charting a course for the rest of the industry while also leveraging their scale to accelerate the advancement of technologies that enable more sustainable operations.
That course is clear. For these innovators, the first steps focus on matching energy use with 100% renewable energy and capitalizing on new infrastructure technologies to improve energy utilization and reduce dependence on water-intensive thermal management systems.
While taking steps to reduce the impact of their facilities on climate change, operators must simultaneously ensure data centers are protected from the effects of climate change. Deciding where and how to build new facilities and place telecommunications networks can't be done without considering the continuity challenges that come with more frequent and severe weather events.
Reference: https://www.vertiv.com/en-in/about/news-and-insights/articles/blog-posts/will-sustainability-be-the-dominant-data-center-trend-of-2022/