Walking through an Immersion Cooled Data Center
Digital Marketing Team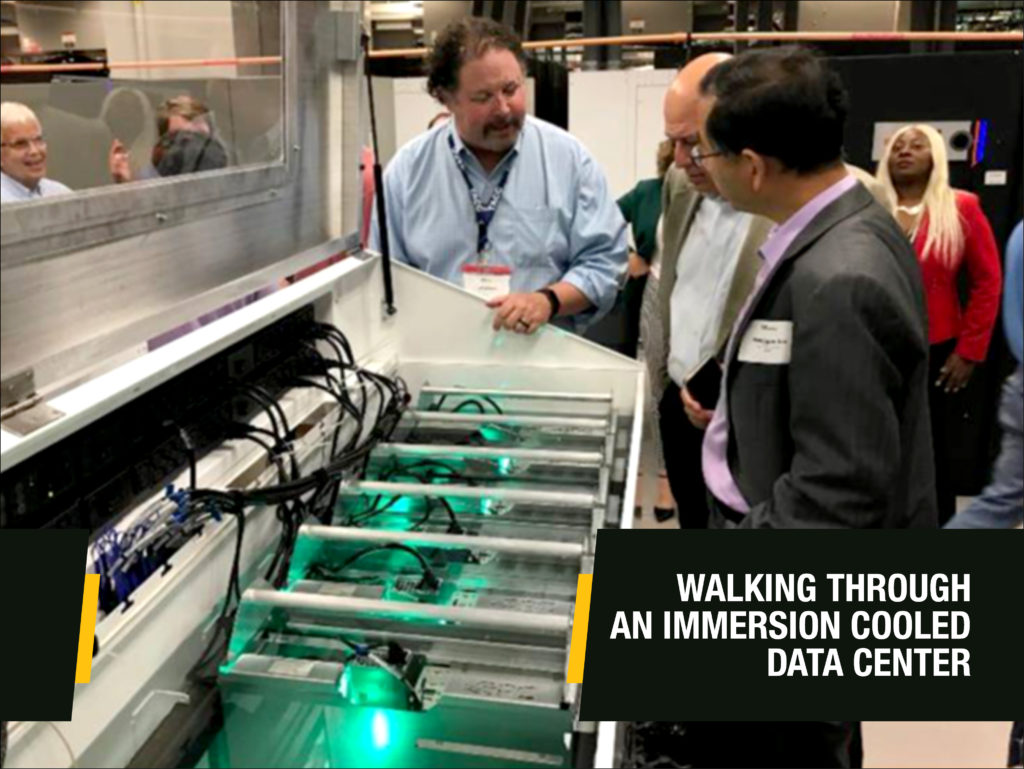 Liquid Cooling solutions have already taken the data center industry by storm. They have proved themselves to be the perfect solution to the requirements of the data center of the future. Liquid cooling has various benefits over conventional air cooling systems. These benefits include a smaller carbon footprint, better energy efficiency, lower total cost of ownership, higher server reliability, and lower CAPEX and OPEX. Apart from these analytical advantages, they offer a range of benefits. As someone who recently had an opportunity to visit a facility equipped with GRC's single-phase liquid immersion cooling solutions, I can say without a doubt that it turns your data center facility into a delight!
In our previous blog, we have discussed the journey of liquid cooling solutions to the modern data centers and how the current resistance towards these solutions are merely psychological. So in this blog post, I decided to take a walk inside an immersion-cooled facility by GRC and take you along virtually while narrating its perks.
Quieter and Warmer Data Center
The first thing you notice when you enter GRC's immersion-cooled data center is that it is quiet and warm! You are accustomed to expect a very cold and noisy greeting as soon you step into a data center, but this is not the same, the temperature is comfortable and there is not a lot of discernable noise, just a little hum of fluids pumps. Immersing the servers in a bath of coolant does not just bring down the power consumption but also does away with the need to chill the overall facility to very low temperatures and in turn the noise from air cooling vents.
Waist-high Workbench with Service Rails
As you begin to appreciate the absence of hearing protection and thick jackets, you realize it looks very open, well lit, and not so formidable at eye level. GRC's horizontal coolant baths create a convenient waist-high workbench and the rack-mountable service rails allow the coolant to return to the rack as the servers rest on them while maintenance. While the data center looks compact, it can support double the compute of an air-cooled data center in the same space. It also allows easy access to all equipment so that you do not have to manage heavy equipment high in the vertical rack or on the ground.
Longer Shelf Life of Equipment
As you see the server dripping the coolant back into the bath you realize that this technology is bound to enhance the equipment's' shelf life by shielding it from pollutants and moisture in the air. And it does! The coolant in GRC's systems – Electro safe™ does claim to reduce service events, while the technology in itself eliminates usage of server fans' vibrations and reseat errors.
As you start to understand the GRC's one simple basic solution that addresses every little qualm of a conventional data center, you cannot help but experience a childlike glee as you try to dip your hand into the coolant, then your phone followed by your laptop and see them come to life even as they are on the dripping railing draining out all the coolant. Walking through a GRC cooled facility has been a fantastic experience, which urged me to share this wonderful experience with everybody who has ever seen the inside of a data center.
Liquid cooling solutions were initially just considered as a solution for high-performance computing. But their widespread adoption has brought to light its various perks that help overcome many challenges faced by data center operators. Advantages, like energy saving and reducing the power bill of the data center, saving space in the data center, and tackling harsh environments, are only among the some of the major advantages it offers. Hence, liquid cooling solutions are being more readily adopted and are projected to become a hit in the IT industry in the next few years.