Prasa has been Recognized by FutureWise as a Key Player in the Indian Data Center Market
Yogendra Singh Rajput
A leading name in market research and consulting – FutureWise, recognized Prasa as an important player for the growth of Indian data center market, in a forecast report titled "India Data Center Market by Model, by Component, by Vertical and by Region: Industry Analysis, Market Share, Revenue Opportunity, Competition and Forecast 2020 To 2027". The forecast covers a host of factors, such as expansion in cloud-based and internet-based services, smart devices, etc, that are driving the growth of data centers market in India.
The report explains that the Indian data center market is expected to value over USD 2 billion by 2027, growing with a CAGR of more than 11% from 2020 to 2027; the state of Telangana growing at the fastest CAGR in this period. As many states have taken several initiatives, Mumbai has become the hub of large data center facilities deployed by giants like AWS, Microsoft, Alibaba, and Google, and Hyderabad is witnessing spectacular growth in the data.
"These are indeed very exciting times with the data center market share growing so rapidly in India. Prasa is a pioneer in the data center industry with over 25 years of experience with data centers and a presence in all the major cities of India. We are glad that FutureWise created such a thorough forecast with Indian Data Center Market Statistics and recognized Prasa's role in it" said Mr. Prakash Burse- Founder & Managing Director, Prasa.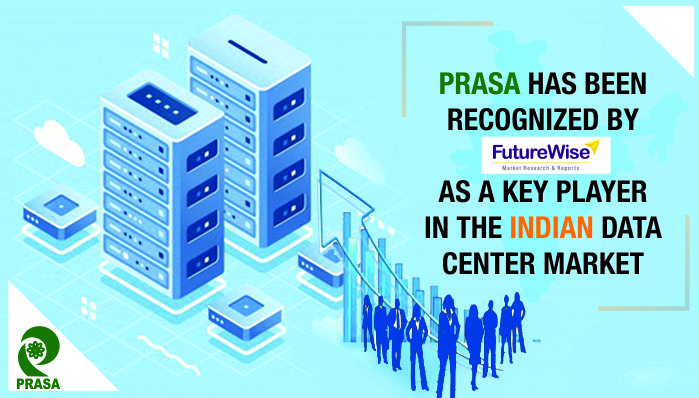 About Prasa
Prasa, an ISO 9001 – 2015 certified company, is one of India's leading data center and mission-critical infrastructure solutions and services providers. Right from providing consultancy to building, then managing and maintaining, and finally backing it up with resilient products and critical services, we do it all! With over 25 years of experience in the industry, Prasa has implemented more than 85 data centers and has served over 4500 clients till date.
About FutureWise Market Research
Future Wise Research & Consulting presents insights and analyses into markets, industries, and the competition, allowing companies to focus their resources towards effective strategizing. They deliver actionable insights backed by evidence-based research and in-depth knowledge, customized to the clients' needs.
References:
https://www.futurewiseresearch.com/information-technology-market-research/India-Data-Center/243