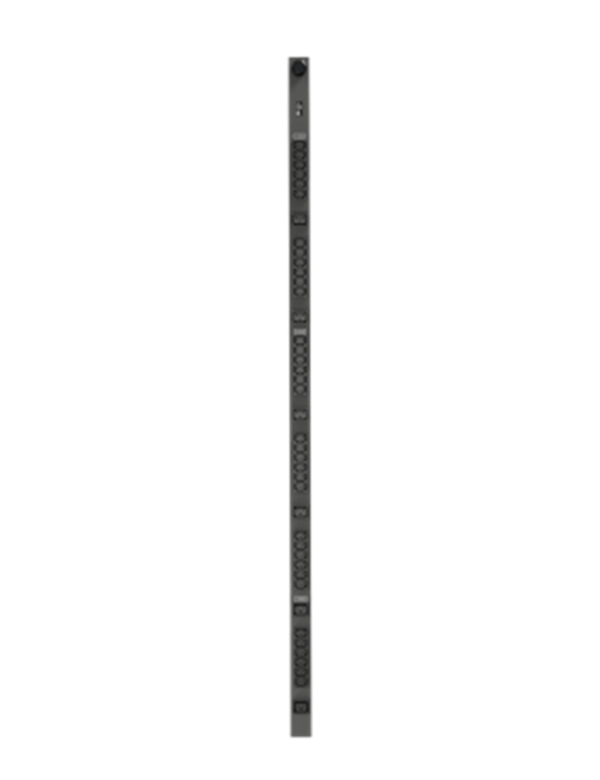 Vertiv Geist rPDU Monitored
Vertiv Geist Monitored rPDU provides a comprehensive view of power usage, both at the rack and via remote access while continuing to provide reliable power distribution to critical IT equipment. Monitored rPDUs are available in a variety of electrical and receptacle configurations.
Models
Benefits & Features
Documents & Downloads
The Monitored PDU offers real-time power consumption metrics and Email & SNMP alarming for voltage, real power, apparent power, power factor, amperage and kilowatt-hours at the rack and via a secure web interface. The PDU offers important insights enabling the user to balance loads, evaluate energy usage trends, and ensure maximum uptime.
VP8858
16 A       C20 power Inlet, 230 V  230 V     18xC13 | 2xC19                 0U (Rack)
VP8853
32 A       IEC60309 1ph/N/PE, 230 V            230 V     36xC13 | 6xC19                 0U (Rack)
VP8881
16 A       IEC60309 3ph/N/PE, 230/400V    230 V     36xC13 | 6xC19                 0U (Rack)
VP8886
32 A       IEC60309 3ph/N/PE, 230/400V    230 V     30xC13 | 12xC19               0U (Rack)
Benefits
Reliable power distribution with local and remote power monitoring options offer quick access to critical power usage information to evaluate energy usage trends and maximize uptime.
Environmental monitoring capabilities ensure users have critical infrastructure data at their fingertips to prevent climate-related equipment failure and system downtime.
Upgrade your hot-swappable monitoring device on the fly to leverage new technologies and accommodate changing business needs without having to replace entire power strips.
Simplify circuit and phase balancing with color-coded receptacles.
Monitor power consumption at the outlet-level for a detailed view of the power distributed to specific equipment with the outlet level option.
Gather comprehensive power data at the palm of your hand with the use of the Vertiv VLC mobile app.
Every unit is 100% tested for reliability and functionality to ensure units function as designed.
Standard three-year warranty, upgraded to five years with product registration.
Features
Hot-Swappable and upgradeable monitoring device.
Local and remote power monitoring with an accuracy of +/- 1% (ANSI & IEC Standards).
VLC (Visible Light Communication).
Environmental monitoring with the addition of optional sensors.
High-Temperature Grade 60°C for high-temperature environments.
Flexibility to meet a broad range of requirements, with a variety of electrical and receptacle configurations available.
Simple and quick installation in all standard racks or cabinets with included mounting brackets.