How to Avoid the Biggest Mistake You Can Make in Building a Data center?
prasaadmin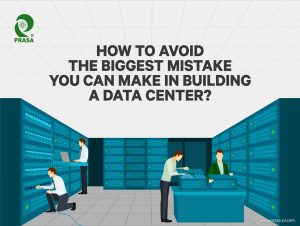 Your data center is at the heart of your organization so there is constant demand and capacity challenges.
Data Center Design & Planning
Data center design is the process of modeling and designing a data center's IT resources, architectural layout and entire infrastructure. It enables the logical conception of a data center prior to development or implementation in an organization or IT environment.
Although data center is a broad term that includes various processes and techniques, a data center design may be in the form of documents, modeled diagram systems or a combination of both.
Your data center is a critical part of your business. Now, find out how to avoid the mistakes during data center planning.
1: Failure to take total cost of ownership (TCO) into account during the data center design phase
Focusing solely on capital cost is an easy trap; the cost required to build or expand can be staggering. Capital cost modeling is critical, but if you have not included the costs to operate and maintain (OpEx) your business-critical facilities infrastructure, you have severely short changed the overall process of effective business planning.
There are two critical components required to build data center OpEx cost modeling—the maintenance costs and the operating costs. The maintenance costs are the costs associated with the proper maintenance of all critical facility support infrastructure. They include but are not limited to OEM equipment maintenance contracts, data center cleaning expenses and subcontractor costs for remedial repairs and upgrades. The operating costs are the costs associated with daily operation and on-site personnel. They include but are not limited to staffing levels, personnel training & safety programs, the creation of site-specific operations documentation, capacity management, and QA/QC policies and procedures. If you have failed to calculate a 3-7 year operations and maintenance (O&M) expense budget, you cannot build a return on investment (ROI) model that supports smart business decisions
If you are planning to build or expand a business-critical data center, your best approach is to focus on three basic TCO parameters: 1) capital expense, 2) operations and maintenance expense, and 3) energy costs. Leave any component out, and you will run the risk of creating a model that does not correctly align your organization's risk profile and business expenditure profile. If you are making a decision about whether to "buy" (use of collocation/hosting) or do an internal build, the risk of not taking this TCO approach is magnified significantly.
2: Poor cost-to-build estimating
Another common mistake is the estimate itself. Financial requests made to boards of directors for capital to expand or build a data center are often too low and result in failure.
3: Improperly setting design criteria & performance characteristics
There are two missteps that can put your organization in the overs pend. First, everyone wants a Tier 3 design, but not everyone needs one. Second, most visions of kilowatt per square foot or rack are not supported by actual business requirements. Too many times, the "must have 300 watts per square foot" approach may not be justified. Don't overbuild; it is a waste of capital. Higher tier facilities also lead to higher O&M and energy costs. This sets the entire foundation for a proper business model and ROI off-base. Establish the right design criteria and performance characteristics first. Then build your capital expenses and operational expenses around it. 
4: Selecting a site before design criteria are in place
Organizations often start searching for the perfect space to build before having their design criteria and performance characteristics in place. Without this vital information, it doesn't make sense to spend time visiting or reviewing multiple sites. While mega users are usually experts in this arena, and take into consideration power availability and cost, fiber, geographic issues such as earthquakes, tornados and flood plains, etc. baseline users often have business models that dictate a need to build or renovate a shell in their core region of business. The problem with selecting a site prematurely or based on narrow geography is that the site often cannot meet the design requirements. For instance, having your data center two floors below your high-rise office or even two blocks away is convenient, but business-critical data centers require a long list of site criteria that usually cannot be met in a multitenant space without significantly higher build costs or limiting space for future expansion
5: Space planning before the data center design criteria is in place
The amount of space to house the data center facility infrastructure components can be significant. In the most robust of systems, the ratio of raised floor to support gear could be as high as 1 to 1. Many organizations base their space requirements on IT equipment alone. However, mechanical and electrical equipment require a significant amount of space. In addition, many organizations overlook the square footage required to house office space, equipment yards and IT equipment staging areas. Therefore, it is absolutely critical to determine your design criteria before you develop your space plan. Without it, there is no way to conceptualize the total space required to meet your overall needs.
6: Designing into a dead-end
The data center industry has done a good job of promoting the importance of modular designs. However, using the modular approach doesn't guarantee success. Modular approaches are based on adding "chunks" of additional infrastructure equipment in a "just-in-time mode" to preserve capital. Organizations still "dead-end" themselves by using the wrong crystal ball when guessing about future needs. Everything can and will change. Designs that are modular and flexible are the key to long term success. Even the best kilowatt per square foot/rack planning can be obsolete due to consolidation, exponential business growth via acquisition, or a sharp turn to an unplanned high density footprint. Electrically, you should make sure that your design includes the ability to add UPS capacity to existing modules without an outage. Design your input and output distribution systems to accommodate any future change in your base build criteria. The cost to oversize distribution for future capacity needs is not significant in your overall TCO modeling. Mechanically, most users can meet their cooling requirements via conventional perimeter cooling with the proper floor height and hot/ cold isle planning. However, one high-density rollout can change everything. Make sure your core design allows for the flexible (uninterrupted) implementation of custom in-rack/in-row cooling solutions.
7: Misunderstanding PUE
Power Usage Effectiveness (PUE) is an effective tool to drive and measure efficiency. However, broad energy efficiency claims may lead to significant misunderstanding. In nearly all situations for new builds and expansions, there is a capital cost related to gaining lower PUE. Many times, organizations set a PUE goal with all the proper intentions but the calculation does not take into account all factors that should be considered. You need to fully understand what the ROI is on capital expenses to reach your goals.
Prasa has been one of the pioneers in mastering the art of building end-to-end data centers for a prestigious list of customers. We have been at the forefront of providing data center build solutions and specialize in it. We make the most of every opportunity to serve our customers by building a customized data center that satisfies all their needs and requirements.
The team of experts at Prasa is known to deliver innovative solutions that are highly efficient, scalable, and agile. We provide the best data center consultancy services in India and now we're outreaching globally as well. Our in-depth knowledge & vast experience of more than 27 years in building data centers has helped us develop an in-house expertise over the data center skill-sets elaborated in the below
Civil Work – Providing & fixing civil structures to ensure a level & smooth texture of exposed walls, columns, ceilings & match aesthetics of existing or new structure.
Transformer – SITC of IEC compliant transformers suitable for the complete IT & Non-IT power requirement. Dry as well as oil-cooled transformers can be implemented as per the site requirement.
Electrical Works– Supplying & executing electrical works like cabling, earthing, lighting, installing rack sockets, plugs & integrating it with other infrastructure.
DG Set- Diesel generator set installation & maintenance by our professional engineers to ensure optimum & highly satisfactory performance.
Chiller- Installation & maintenance of latest air-cooled & water-cooled chiller pipes & related equipment by our specialists.
Chiller Piping – Complete designing & implementation of P&ID of the chill water piping connecting the chillers to the AHUs or RDHXs installed inside the data center. Automation of the same through chiller plant manager(CPM) for fail-safe of the same.
PAC – Precision air cooling systems installation & maintenance services to ensure smooth functioning by cooling & humidifying / dehumidifying the data center room.
UPS & Batteries – Best-in-class uninterruptible power supply installation & maintenance work to ensure a seamless power supply & protection.
RDHX – Passive as well as active rear door heat exchangers for high density IT loads from 10kw to 30kw or higher can be designed & implemented in partnership with the world's leading OEMs for the same.
Server Racks – SITC standard as well as non-standard server & network racks with intelligent PDUs for socket level monitoring & control.
Fire Suppression – Ensuring utmost safety with installation & maintenance of fire suppression system including fire alarm, optical smoke detector, flashing led & drift compensation.
Physical Security System – SITC of biometric cum card cum code access control system, CCTV surveillance and report repellent systems for uncompromised data center security.
DCIM / IBMS – Supply and maintenance of integrated building management system software & integrator and data center infrastructure management services.
Reference – https://www.datacenterknowledge.com/archives/2014/05/15/top-9-mistakes-data-center-planning
https://www.se.com/ww/en/work/campaign/data-center-design-overview/