Prasa Bags the Turnkey Containerized Data Center Project from Prestigious Government Research Institute situated in Gujarat
prasaadmin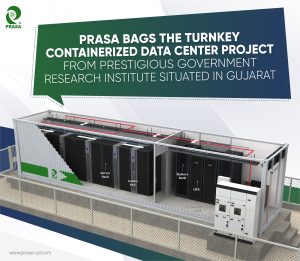 We are glad to share that Prasa has bagged India's first ever Government project for Modular Containerized Data Center from a Prestigious Government Research Institute
About Client :-
Government Research Institute is an autonomous R & D organization, under the Government of India situated in Gujarat. This institute is largely involved in theoretical and experimental studies in plasma science including basic plasma physics, magnetically confined hot plasmas and plasma technologies for industrial application.
Prasa is a Pioneer in Data Center industry and it puts high importance in research, development and analysis to gain insight into future technologies which will allow it to serve its client better and grow in a streamlined manner.
Prasa's Edge Computing Solutions
Prasa's Edgecenter solutions are a viable alternative to traditional data center deployments for organizations of this millennial era. Our EdgeCenter solutions drive a company's growth .
With our EdgeCenter solutions, we ensure quick deployment of prefabricated data centers that are compact, fast, efficient, and reliable. These data centers come in an all-in-one box that delivers unparalleled flexibility, energy efficiency, great cooling, scalable capacity, and better PUE.
About Us:-
Prasa, an ISO 9001 – 2015 certified company, is among the leading data center and mission critical infrastructure solutions and services providers, in India. Prasa provides turnkey solutions including everything from consultancy to deployment, and management to maintenance, and finally backing it up with resilient products and critical services. Established in the year 1994, Prasa has gained vast experience in the ever-changing environment of data centers and mission critical infrastructure. Prasa has partnered with the many leading brands for indoor and outdoor equipment installed in data centers and has portrayed itself as the leading solution provider for mission critical and energy efficient infrastructure.
To Know more about Prasa's EdgeCenter solutions ,Please Click here :- Edge Center Solutions