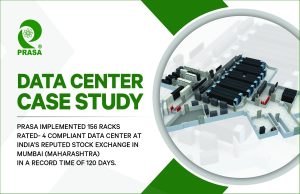 Prasa Implemented 156 Racks Rated- 4 Compliant Data Center At India's Reputed Stock Exchange In Mumbai (Maharashtra) In A Record Time of 120 Days.
"Prasa has deployed a modern and energy-efficient data center India's reputed Stock exchange in Mumbai, The data center is a Turnkey Data Center  that manages and supports the IT and management services." The overall Data Center design energy efficient in line with Green Data Center concepts.
About the Client
Our Client is the leading stock exchange of India, located in Mumbai, Maharashtra. It is the world's largest derivatives exchange in 2021 by the number of contracts traded based on the statistics maintained by the Futures Industry Association, a derivatives trade body.
Application:– Co-location Services for their Clients
Challenges on Project:-
(1)The area of the Data Center was initially used for office sitting employees
(2)To design a Rated-4 data center in an already existing office space was the most challenging task.
(3)Client required a turnkey data center to meet all its storage, processing, managing, and computing needs for the huge amount of data it houses. A data center with certain modular features was required to be built which would not hamper the performance of all the systems within the data center
(4)The deployed data center would need to be monitored and managed with a system that will ensure the seamless working of the data center and take care of physical access as well. This meant a complete security system with a service that can take care of everything 24*7.
(5)Prasa developed a data center in Mumbai as per the client's requirement, the client wanted a quality data center solution to meet the Civil, cooling, electrical, and Security Needs of the Data Center.
(6)Material movement and Transportation issue in Covid 19 Situation
(7)The required solutions had to be energy-efficient and cost-effective without compromising on the quality of the technology being offered.
(8)The data center functioning and smooth working of equipment had to be managed post completion of the project
(9) Design to Commission in 120 Days – The complete project had a stringent completion timeline.  We had to ensure that the implementation of the complete NEW setup is done in less than 120 days.
 The highlight of the Project:-
Prasa team done complete Civil, Interior , Electrical, UPS Systems (Li-Fe battery ), Precision  Air-Conditioning System, Comfort Air-conditioning systems, IBMS System, Air-Purification System  work
Civil and Interior Works
Total area allocated – ~15483 sq. ft.
Racks – 156+ Full Racks
IT Load – 1.2 MW
Electrical Work – Complete Electrical Work done by PRASA
BMS system to monitor the UPS and Battery
HVAC, UPS Systems, Precision Air- Conditioning
IBMS: System to monitor the following
Building Management System, Public Address System, IP CCTV Control System, Access Control System, Intelligent Fire Detection and Alarm System, Aspiration smoke detection system, Gas based Fire Suppression System, Water Leak Detection System, Rodent Repellent System, VESDA – Very Early Smoke Detection Aspiration, Temperature, and Humidity Sensors
Air Purification System
Cooling System
Total IT Load –  ~1.2 MW design IT load
Standards –TIA 942 Rated-4 Data Center Design
Safety and Security Systems
Fire Detection System, Fire Suppression System, Access Control System, Surveillance System, Water leak Detection system, Rodent Repellent System, VESDA, Public Addressing system
(1)The data center is complete with all security systems. The security systems include – Water Leak Detection, Rodent Repellant System, Fire Detection System, Fire Suppression System (Novec 1230), CCTV, and Physical Access Control System.
(2)Prasa has completed all the civil requirements to house a data center including ceiling, floor, paint, PoP, etc.
(3)The electrical solutions include power backup equipment including all wiring, UPSs, and DG set.
(4)Prasa has provided a BMS system to ensure the uninterrupted functioning of the data center
(5) The solutions provided by Prasa also include all types of electrical solutions along with the input-output panel and PAC panel.
Customer Benefits
(1)All 156 racks are Powered using floor-mounted PDUs with an inlet isolation transformer
(2)It also has Branch Circuit Monitoring System (BCPM) in order to measure each rack / Rack PDU Power Consumption
(3)The data center is equipped with an Integrated Building Management System to control, manage and analyze the functioning of the complete infrastructure. This secures the data center premises and ensures complete security and uptime of all systems
(4)The modern technology along with In-row cooling systems reduces the power usage considerably, therefore reducing the electricity bill and making the company energy efficient.
(5)Cold Aisle containment technology makes the data center facility safer and easier to manage for the data center staff.
(6)The fire-rated door makes sure that in case of any fire outside the data center, the facility will be safe from fire, and any incident of fire inside the data center will be contained within and suppressed using a fire suppression system.
About Prasa
Prasa is one of India's leading data center and mission-critical infrastructure solutions and service providers. For over 27 years, Prasa has worked with a wide range of customers (which includes growing businesses, global enterprises, and government organizations), by offering quality products and services along with certified professional staff and has thus procured in-depth knowledge of the specific requirements in varied industry verticals.
Prasa has been one of the pioneers in mastering the art of building end-to-end data centers for a prestigious list of customers. We have been at the forefront of providing data center build solutions and specialize in it. We make the most of every opportunity to serve our customers by building a customized data center that satisfies all their needs and requirements.
The team of experts at Prasa is known to deliver innovative solutions that are highly efficient, scalable, and agile. We provide the best data center consultancy services in India and now we're outreaching globally as well. Our in-depth knowledge & vast experience of more than 20 years in building data centers has helped us develop in-house expertise in the data center skill-sets.