PRASA Bags 4 Data Center Projects in the Very First Quarter (April- June) Worth~ 49Cr
Yogendra Singh Rajput
We are glad to share the fact that we have Won 4 Data Center Projects in India, 3 Projects in Bangalore (Karnataka) and 1 Projects in Mumbai (Maharashtra). All 4 projects amounting to approximately 49 Cr. We wish to take this opportunity to thank all our prestigious customers for showing the faith in PRASA and allowing us offer our Data Center design-build services.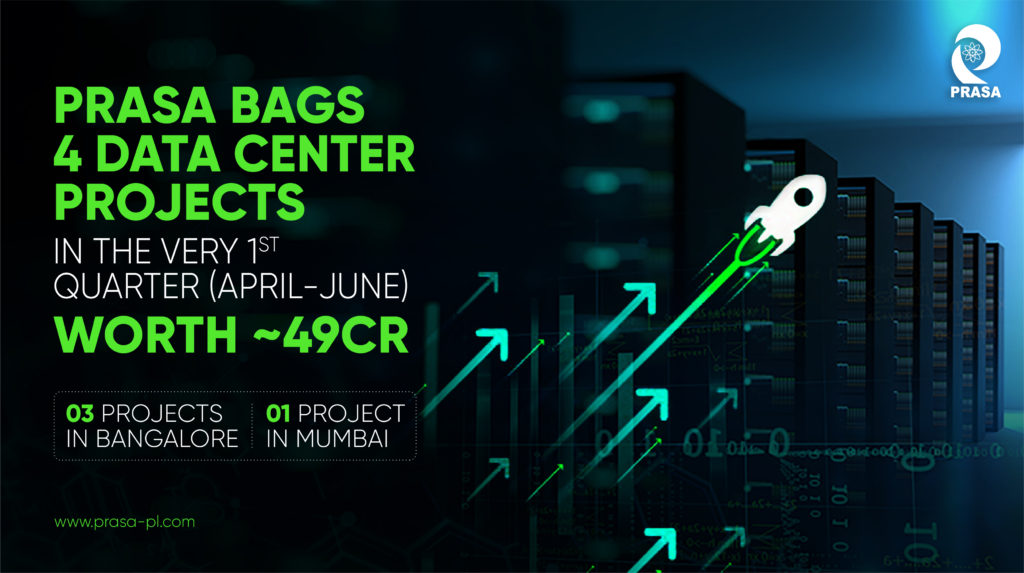 We are thrilled to serve a diverse vertical of applications in these for projects, right from one of India's largest animation & gaming render farm, one of India's leading Oil & gas organization, another being India's most decorated and globally acclaimed educational institute, to one of India's reputed Stock exchange. Every genre of business has a different need of design and implementation in their own captive Data Center. PRASA with its deep technical and design expertise has ensured to cater to each customer's demand and the project works are in full swing to be completed in this calendar year itself.
Prasa is a Pioneer in Data Center industry and it puts high importance in research, development and analysis to gain insight into future technologies which will allow it to serve its client better and grow in a streamlined manner.
Prasa, an ISO 9001 – 2015 certified company, is among the leading data center and mission critical infrastructure solutions and services providers, in India. Prasa provides turnkey solutions including everything from consultancy to deployment, and management to maintenance, and finally backing it up with resilient products and critical services. Established in the year 1994, Prasa has gained vast experience in the ever-changing environment of data centers and mission critical infrastructure. Prasa has partnered with the many leading brands for indoor and outdoor equipment installed in data centers and has portrayed itself as the leading solution provider for mission critical and energy efficient infrastructure.