Liquid Immersion Cooling for Data Centers
Yogendra Singh Rajput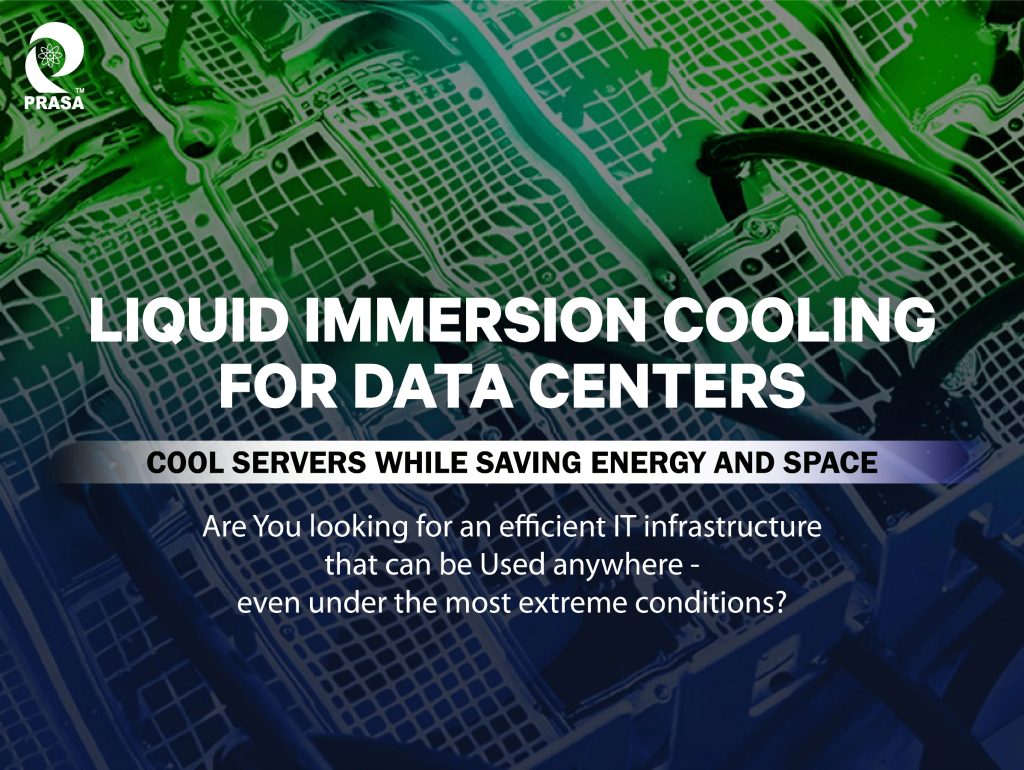 Liquid immersion cooling is a revolutionary cooling technology that is bridging the gap between the conventional data center and data centers of the future. It increases equipment efficiency and reduces energy consumption, which will not only reduce the power bill of the data center but also give advantage with respect to carbon credit. Liquid immersion cooling solutions are capable of handling the growing density of data centers effectively and have shown significant benefits for its users. Liquid immersion cooling, on one hand, allows capacity planning for the data center and provides environmental resilience to data center equipment. On the other hand, it removes the limitations of rack density, power availability, and location issues.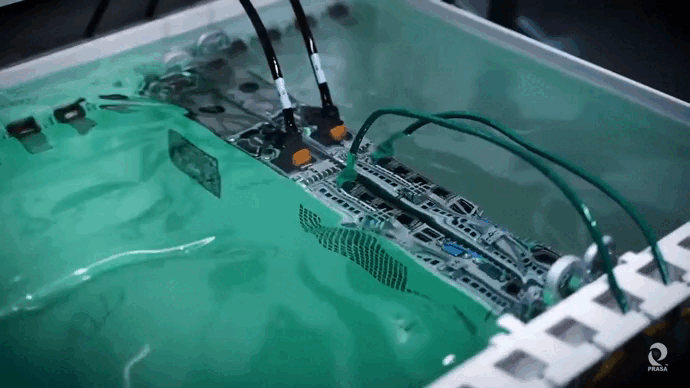 So how exactly do liquid immersion cooling solutions function, reduce OPEX and CAPEX, increase cooling capacity, and enable scaling?
Liquid immersion cooling solutions provide direct cooling to data center equipment by immersing them in a bath of propriety, non-conductive, dielectric coolant – Electro Safe™. This coolant with 1200x the heat capacity of air absorbs the heat from the servers. The tubes of coolant keep circulating between the bath and a heat exchanger maintaining the temperature of the coolant and ensuring it doesn't boil away.
Liquid Immersion Cooling Solutions do away with conventional data center fixtures like chillers, CRACs, CRAHs, raised floors, etc. , ensuring in a highly energy-efficient data center with a cooling capacity of up to 100 kW/rack.
Liquid immersion cooling includes all the advantages of the century-old air cooling, minus the exuberant costs, power bills, risks, and complexities. Your data centers in their highest capacity can attain the highest level of efficiency with liquid immersion cooling solutions.
Cost – Effective
Future Proof
Scalable
Agile
Resilient
Efficient
The data centers are evolving to process the plethora of data being generated by next-gen technologies like IoT, Content Delivery Networks, Industry 4.0, etc,  which is only rising with the complete adoption of 5G, Artificial Intelligence, Augmented Reality, Virtual Reality, etc. This has resulted in much higher rack densities making the conventional cooling technologies redundant. This has also multiplied the energy consumption of the data center, becoming a cause of concern economically and environmentally. Liquid Immersion cooling caters to both these problems, becoming the cooling method of choice for the data centers of the future as it sustainably accommodates rack density.
Advantages of Liquid Immersion Cooling
Apart from the obvious benefits of making the data center greener and significantly reducing the operational costs, liquid immersion cooling has multiple advantages for a data center
Reduces PUE of the data center
Increases the shelf-life of all the data center equipment by protecting it from all kinds of contamination
Maintains a stable and consistent thermal environment for hardware
Makes for a quieter and thermally amicable data center
Works perfectly in the harsher surrounding of edge deployments
Accommodates rack densities and solves space constraints of a data center
As a pioneer in the Data Center industry, Prasa has undertaken the responsibility of making data centers greener and more efficient. To further this green initiative, Prasa has partnered with GRC to bring single-phase liquid immersion cooling solutions to India. The product range includes highly acclaimed solutions by GRC – ICEraQ® ,ICEtank®,HashRaQ®, HashTank®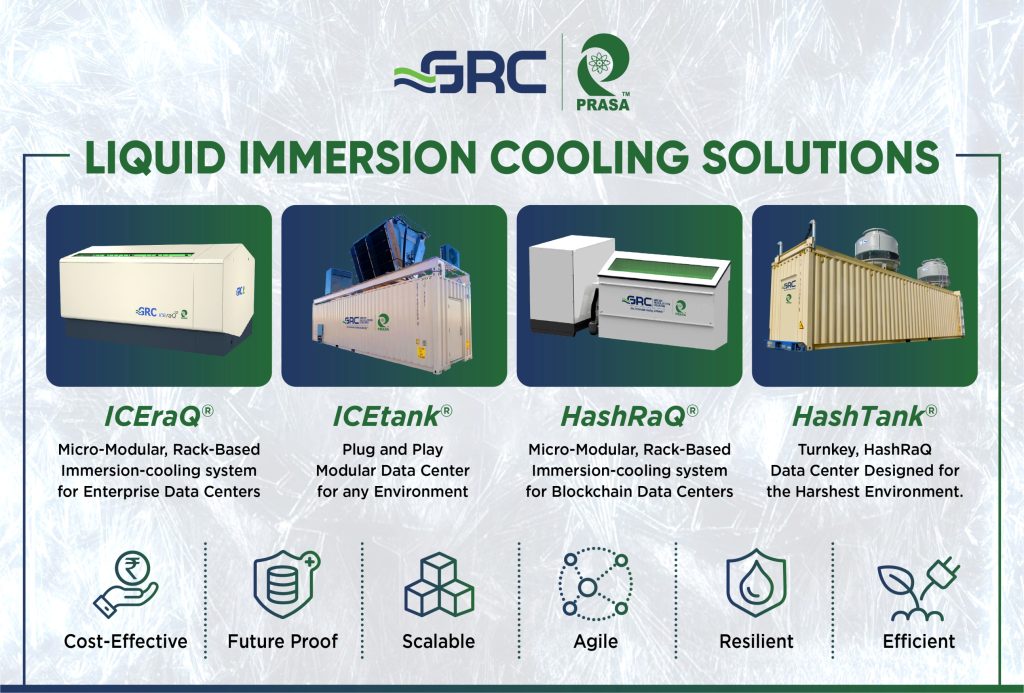 ICEraQ® micro modular, Rack – Based immersion cooling solutions
Whether you're running AI, public cloud computing, private cloud storage, a high frequency trading operation, or an on-premises data center, ICEraQ® micro modular, immersion cooling solutions from GRC can help you attain unprecedented cost, performance and space efficiencies, while achieving your organizational sustainability objectives at the same time.
The minimal site requirements and modular design of ICEraQ® server cooling systems significantly reduce the expense of building, running, and expanding data centers. With options ranging from our all-in-one, compact ICEraQ Micro to the elegant, space-efficient ICEraQ® Series 10 featuring an integrated CDU that efficiently cools up to 368 kW* per rack — we've got your data center cooling needs covered.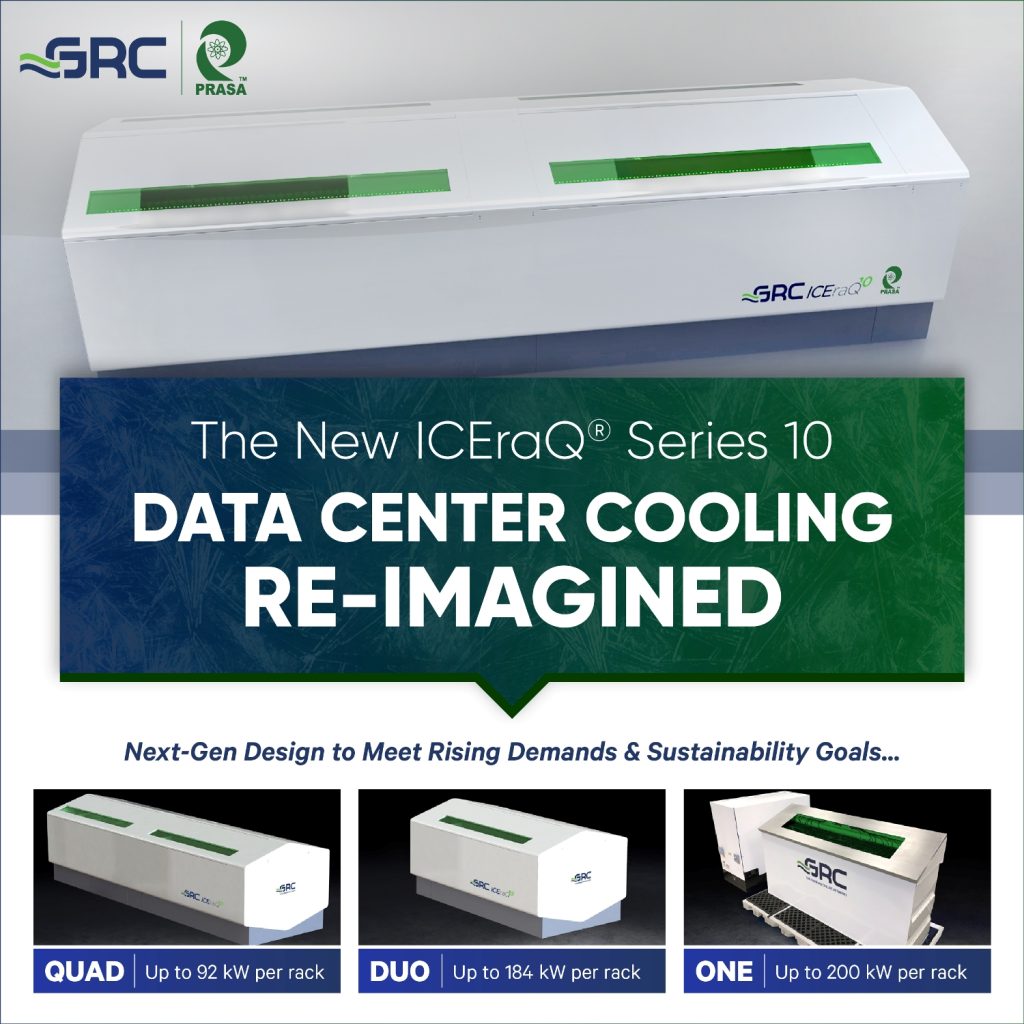 Reduce carbon footprint with
95% cooling energy savings
10-20% lower server power draw
Attain a pPUE of <1.03
Lower upfront costs 50%
Cool up to 364 kW with the innovative Series 10*
Enables high-density data center layouts
Deployable in harsh environments
Fast deployment: typically within 3 months
Scale as you grow
Whether You're Diving Into Hybrid Cloud Computing or Updating Your On-Premises Data Center Server, There's an ICEraQ Liquid Immersion Cooling Solution For You.
ICEraQ Micro
ICEraQ One
ICEraQ Duo
ICEraQ Quad
(i)ICEraQ Micro Self-contained, immersion cooled rack designed to be easy to get up and running — virtually anywhere. All you need is power, water service and a level floor.
1 – 24U Immersion-Cooled Rack w/integrated CDU
Cools up to 25 kW with a warm water loop or up to 50 kW with chilled water
Enables scaling in single-rack increments
(ii) ICEraQ One
For extreme high-power GPU computing-, ASIC- and FPGA-based applications, including artificial intelligence (AI), high-performance computing (HPC) and more.
1 x 42U or 52U immersion-cooled rack supported by a single 100 kW CDU
Handles up to 100 kW with a warm water loop or up to 200 kW with chilled water
Enables scaling in single-rack increments
(iii) ICEraQ Duo
For most high-GPU server applications including artificial intelligence (AI), geosciences (oil & gas exploration), high-performance computing (HPC), and more.
2 x 42U immersion-cooled racks supported by a single 200 kW CDU
Cools high-power GPU servers up to 100kW/rack with a warm water loop or up to 184 kW/rack with chilled water
Enables scaling in 2-rack increments
(iv) ICEraQ Quad
For cloud technology/on-premises data centers and high-frequency trading (HFT) data centers.
4 x 42U immersion-cooled racks supported by a single 200 kW CDU
Supports densities up to 50 kW/rack with a warm water loop or up to 92 kW/rack with chilled water
Enables scaling in 4-rack increments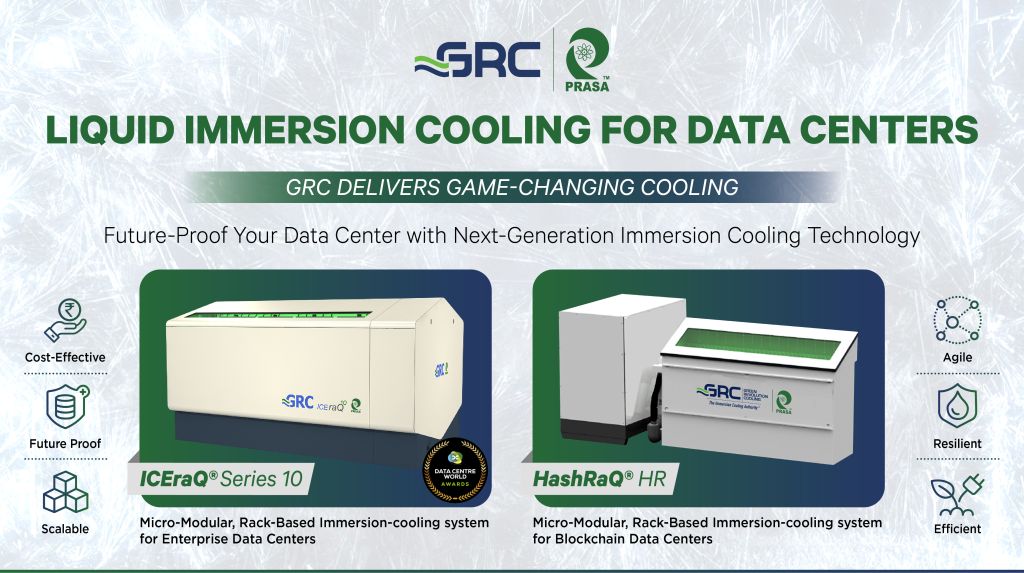 Micro- Modular, Rack – Based Immersion Cooling  System for Blockchain Technology  Applications Make crypto mining more profitable, slash data center capex and opex, mine different currencies based upon relative profitability and respond quickly to market fluctuations. With minimal site requirements, HashRaQ, micro-modular server cooling systems from Green Revolution Cooling (GRC) significantly reduce the cost of building, running and expanding a successful blockchain computing operation.
Whether You're Interested In Bitcoin Mining Or Blockchain Computing, There's A HashRaQ Solution That's Right For You
Cut cooling energy by up to 95%
Attain an mPUE <1.05
Lower upfront costs 50%
Reduce server power draw 10-20%
Enables high-density data center layouts
Entirely ASIC/GPU-agnostic
Fast deployment: only 12 -14 weeks
Reliably cools up to 100kW/rack
Low space usage due to high density
Standalone infrastructure allows for distributed deployments in unconditioned spaces
Scale in single-rack increments
Drop the experts at Prasa a mail and book a free consultation at enquiry@prasa-pl.com.