Prasa Powering the Data Center at Security and Exchange Board of India (SEBI)
Yogendra Singh Rajput
Prasa has won the tender to supply, install, test, commission and maintain UPS systems at Security and Exchange Board of India (SEBI), Bhavan-II. Prasa competed for the tender with 3 other big names associated with power backup and won on 17th March 2020.
Prasa is deploying online IGBT based, double-conversion, transformer free, modular UPS systems along with VRLA battery to provide 30 minutes backup at full load. Prasa is installing 2 UPS systems of 160 kVA capacity in parallel online redundancy mode and 2 UPS systems of 200 kVA capacity for data center application as dual-feed redundant mode. These systems will be compatible with lithium-ion batteries.
The UPS systems installed at SEBI will provide power backup for all lighting, equipment, and machinery used at SEBI offices. Being an authorized business partner with Vertiv, Prasa is installing Vertiv's Liebert UPS systems on the site.
"This project is another testament to Prasa's ability in delivering and deploying quality mission critical equipment. We have always put the customer at the center of everything we do, which helps us deliver efficiency at reasonable prices. Prasa is glad for the opportunity to work with SEBI", said Mr. Prakash Burse- Founder & Managing Director, Prasa.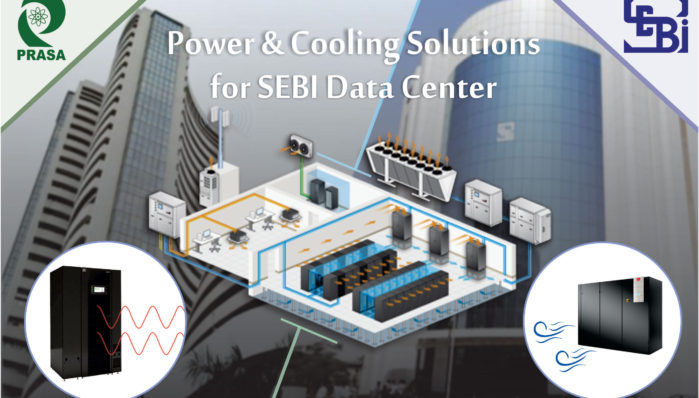 About SEBI
 The Securities and Exchange Board (SEBI) of India is the regulator of the securities and commodity market in India. It is owned by the Government of India. SEBI works to protect the interests of investors in securities and to promote the development and regulation of the securities market. It was established in 1988 and given statutory powers on 30 January 1992 through the SEBI Act, 1992.
About Prasa Infocom & Power Solutions
Prasa Infocom & Power Solutions, an ISO 9001 – 2008 certified company, is one of India's leading data center and mission critical infrastructure solutions and services providers. Right from providing consultancy to building, then managing and maintaining, and finally backing it up with resilient products and critical services, we do it all! With over 25 years of experience in the industry, Prasa has implemented more than 80 data centers and have served more than 4500 clients till date. To know more about the latest news and events from Prasa, please visit – https://prasa-pl.com/about-us/news-and-events/.