IoT Devices Containing the Spread of Coronavirus
Marketing Team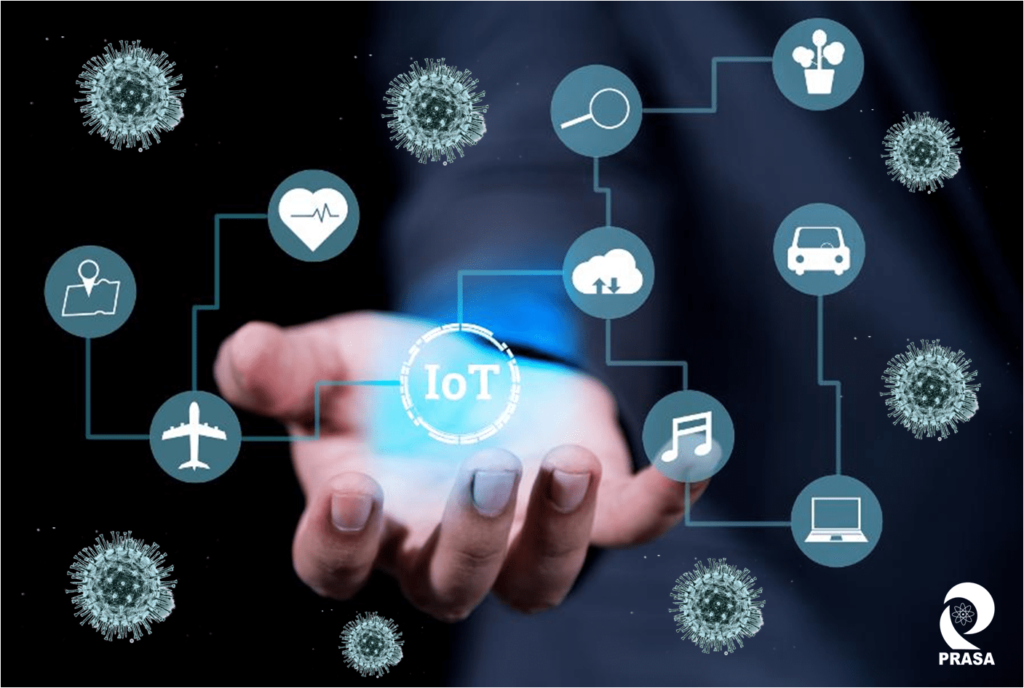 Governments and healthcare institutions around the world are struggling to fight and contain the spread of new coronavirus. Unlike any previous outbreak, COVID-19 has spread very rapidly to a large number of people across the globe; but just like previous outbreaks, it has shown challenges in the identification of the origin of the epidemic (patient zero), controlling the spread of the virus, and the dearth of enough medical resources to treat all the infected in worst-affected countries.
Technology, especially IoT, has been a major tool in fighting the spread of the pandemic. It is also proving to be instrumental in the research for a cure for the virus. The countries that have shown recovery from the outbreak have successfully quarantined potentially infected people, treated the seriously ill patients, prevented cross-infection among medical staff and patients with the help of easily scalable and automated IoT solutions.
IoT already plays a pivotal part in healthcare, which has only increased with the pressure on healthcare facilities with the pandemic. Various IoT devices such as patient monitoring devices, video capture technology, RFID chips and readers, patient drug delivery and scheduling systems, etc, are being used. IoT in healthcare today is instrumental for maintaining social distance as it allows for monitoring with wearables, home scales, healthcare apps, telehealth tools, heart rate monitoring, blood sugar monitoring, and more. Also, some softwares are available that creates a diary of patient's vitals and symptoms (body temperature, body stability, cold and cough, fatigue, etc.) to analyze and identify patients in the early stages and treat them effectively.
In this post, we are discussing how IoT devices have facilitated the governments of various countries to deal with the various aspects of the pandemic.
Identification and Isolation
Early detection of infected people and quarantining them seems like the best way to control the rapidly spreading infection. Apart from using thermal imaging to scan body temperature like most countries, in China- sensors and interconnected cameras based on AI-enabled face recognition have been used by healthcare professionals for patient compliance.
IoT devices have also been used to ensure social distancing by deploying self-driving vehicles and drones for delivery, governments launching applications to help you track and monitor any symptoms due to the virus, etc.
Patient Management
A major challenge of safely managing the patients to reduce the risk of spreading COVID-19 has been facilitated by IoT devices, as medical examinations are being conducted without direct contact. Patients can monitor their body temperatures and upload the data with their mobiles on the hospital cloud for analysis. The scalability provided with IoT also allows for remote-monitoring for in-home high-risk patients who have been quarantined but are not serious enough for hospital care.
Governance and Social Distancing
Apart from identifying, isolating, and managing the patients, governments across the world are is also using IoT devices for managing various other things like the economy, governance, policing, etc. Schools and universities ensure social distancing by conducting education programs on mobile phones and tablets, offices are working with the help of IoT devices as employees work from home, UPI payment methods are being used to make transactions cashless, etc.
The technology and IoT components that can be leveraged to provide a healthcare system to deal with the current outbreak already exist, but they are fragmented and not well permeated in most countries. This epidemic has shown us the need to create proper infrastructures like 5G and edge computing to bring together the available technology so that the systems can be scaled and expanded for disease tracking, preventive quarantining, and in-patient care; and help us be prepared for any future calamity.