Evolution of Cooling Technologies in Data Center Space
Marketing Team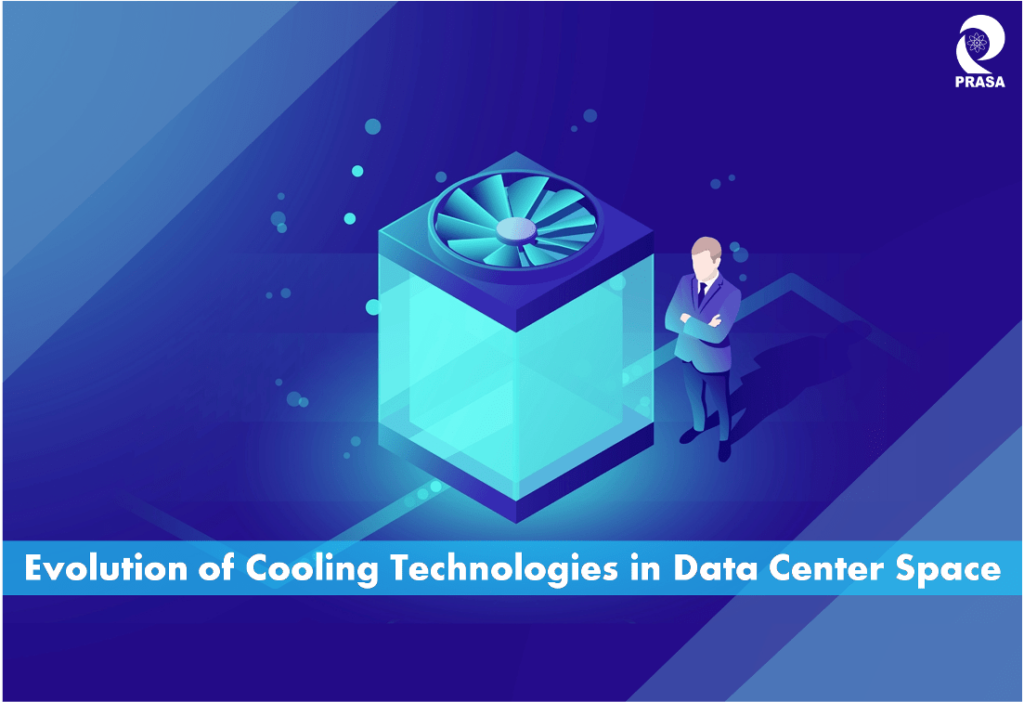 Prasa has started a series of mini-blog posts to examine the role of technology and data centers. It will cover the past, present, and future of technology and data centers, and how they are helping us in dealing with the pandemic. Last time we discussed the evolution of data centers and today we will discuss the evolution of cooling technology in the data center space.
The rising power densities and heat levels in the data center have changed the cooling strategies significantly over time. Data center cooling systems have started accounting for more than 30% of the energy consumption, so it is only fitting that it evolves as rapidly as the data center itself.
From our previous blog post, you know that what we refer to as data centers started out as mere computer rooms housing mainframe computers. The early data centers were cooled using free air and fans, but as we moved ahead in the timeline near to our modern data center, various cooling technologies have made their place. Cooling technologies in the data centers have usually evolved to provide more effectiveness and efficiency.
1. Raised Floor Cooling
This old fashioned cooling system has been popular in the last half century, when the data centers were cooled with cool pressurized air from raised flooring. Usually, a CRAC (Computer Room Air Conditioner) or CRAH (Computer Room Air Handler) is the source of cooling circulated by constant speed fans. This type of system is not very efficient and is functional only when the data center compute density is low.
2. Water Based Cooling
Electricity is not the only resource used in data center cooling technology. To increase the efficiency of data centers, technologies like chilled water systems and evaporative cooling came in, which use water to bring down the temperatures of the data center. Chilled water system uses chilled water from a chiller plant to cool the air being brought in by air handlers (CRAHs), and evaporative cooling draws heat of air by exposing hot air to water causing evaporation and hence cooling.
3. Containment Cooling Systems
As the density of the data centers started rising, constant-speed fans blowing air via raised floor have given way to cold air containment and hot air containment designs. Cooled by In-row cooling systems, they enclose clod/hot air in a containment frame. They allow for much better efficiency owing to variable fan speeds.
4. Precision Cooling Systems
The need for better efficiency has led the way for precision cooling systems which are placed as near to the heating source as possible. Like a PAC which is placed between the servers, or direct-to-chip cooling which uses coolant in pipes to bring down temperatures of the cold plate inside the motherboard's processors.
5. Free Air Cooling
As the name suggests, this type of cooling utilizes fresh air from outside to cool the data center. Although, it is the most efficient form of cooling; for this to succeed, the outdoor temperatures need to be cool enough throughout the year, which is possible only in certain parts of the world. Even with favorable conditions, humidity, dust, and pollutants can pose a challenge for the expensive IT equipment while using this method.
6. Liquid Immersion Cooling
The most recent innovation in data center cooling space has been the liquid immersion cooling solutions; where the servers are immersed in a dielectric cooling liquid to maintain amicable server temperatures. This technology has overcome all the bottlenecks from existing cooling technologies and brought down the PUE of the data center significantly.
It is evident that need for efficient and effective cooling methods has brought the technology where it is today. Most of these technologies are still used depending on the data centers requirement and budget. But as innovation would have it, we seem to have reached a very viable option for high-density, modern data centers with Liquid Immersion Cooling technology.