Union Budget 2020: Calling for Data Center Parks in India
Yogendra Singh Rajput
On 1st February 2020, the Finance Minister of India, Nirmala Sitharaman presented the Union Budget speech for fiscal 2020-21 in the Indian Parliament, where she prominently addressed the IT and the data center industry.
The budget 2020 announces the government's proposal to roll out a policy enabling the private sector to build data center parks throughout the country. It will enable the firms in India to skillfully incorporate data in every step of their value chains.
"It is now a cliché – "data is the new oil" and it is true that Analytics, Fintech and Internet of Things (IoT) are changing the way we deal with our lives," added Nirmala Sitharaman in her speech.
As per the RBI's data localization rule that mandates financial data and other sensitive data about national to remain within the country; it calls for a huge demand of the local data centers in the country. It can also aid in minimizing the opposition to data localization requirements by businesses by making the local data centers more viable economically.
"We welcome the government's policy to build data center parks in public-private partnership. It will help small and medium-sized businesses to host their data in well-managed, world class data centers. It can also favor India as a preferred destination for global data centers", said Mr. Prakash Burse- Founder & Managing Director, Prasa.
Read the full news on Budget 2020 here.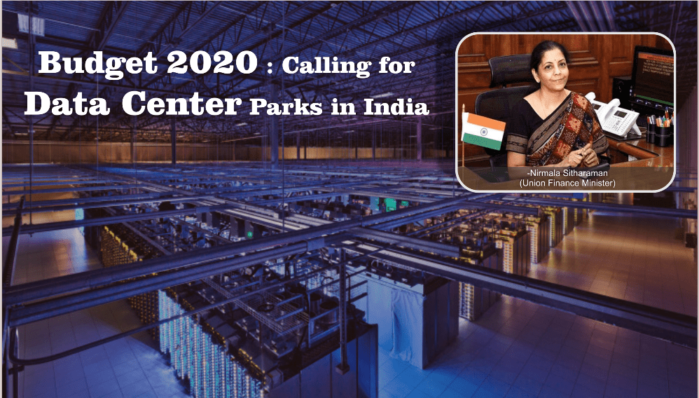 About Union Budget
The Union Budget of India, also referred to as the Annual Financial Statement in the Article 112 of the Constitution of India, is a statement of the estimated receipts and expenditure of the government for that particular year. The Government presents it on the first day of February so that it could be materialised before the beginning of new financial year in April.
About Prasa
Prasa is one of India's leading data center and mission critical infrastructure solutions and services providers. Having worked closely for over 24 years with a wide range of customers (from growing businesses to global enterprises, and government organizations), we have been able to procure in-depth knowledge of the specific requirements regarding varied industry verticals. To know more about the latest news and events from Prasa, click here.