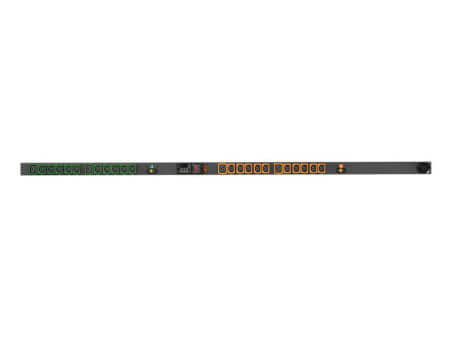 Vertiv Geist rPDU Switched
Vertiv Switched rack PDUs (rPDU) provide a comprehensive view of critical IT equipment power usage, both at the rack and via remote access with the added ability to remotely turn on, turn off, or reboot power at each outlet. Switched rPDUs are available in a variety of electrical and receptacle configurations.
Models
Benefits & Features
Documents & Downloads
The Switched PDU offers real-time power consumption metrics and Email & SNMP alarming for voltage, real power, apparent power, power factor, amperage and kilowatt-hours at the rack and via secure web interface along with remote outlet control. The PDU offers important insights enabling the user to balance loads, evaluate energy usage trends, and ensure maximum uptime.
VP8959EU3
16 A            IEC60320 C20 power Inlet, 230 V      230 V          21xC13 (U-Lock) | 3xC19 (U-Lock)     0U (Rack)
VP8953  
32 A            IEC60309 1ph/N/PE, 230 V     230 V          20xC13 (U-Lock) | 4xC19 (U-Lock)      0U (Rack)
IMD-03
rPDU (Upgradeable unit)
Benefits
Outlet level control to turn on, turn off or reboot individual outlets.
Bi-Stable latching relays significantly reduce idle power draw.
Upgradeable and Hot-Swappable monitoring device
Local and remote power monitoring with an accuracy of +/- 1% (ANSI & IEC Standards)
VLC (Visible Light Communication)
Environmental monitoring with the addition of optional sensors.
 High-Temperature Grade 60 °C for high-temperature environments.
Color-coded U-Lock receptacles by a circuit for instant identification.
Flexibility to meet a broad range of requirements, with a variety of electrical and receptacle configurations available.
Simple and quick installation in all standard racks or cabinets with included mounting brackets.
Features
Avoid potential circuit overloads with remote current metering and monitoring of connected loads.
Power sequencing time delays allow users to define the order in which to power up or down connected equipment to avoid circuit overload.
Remotely reboot outlets to power cycle unresponsive IT equipment or increase runtime of critical equipment upon power failure with outlet-level control.
Reliable power distribution with local and remote power monitoring options offer quick access to critical power usage information to evaluate energy usage trends and maximize uptime.
Environmental monitoring capabilities ensure users have critical infrastructure data at their fingertips.
Upgrade your hot-swappable monitoring device on the fly to leverage new technologies and accommodate changing business needs without having to replace entire power strips.
U-Lock receptacles secure power cords and avoid accidental disconnections.
Simplify circuit and phase balancing with color-coded receptacles.
Monitor power consumption at the outlet-level for a detailed view of the power distributed to specific equipment with the outlet level option.
Gather comprehensive power data at the palm of your hand with the use of the Vertiv VLC mobile app.
Standard three-year warranty, upgraded to five years with product registration.